In Each Other's Bones: A Memoir of Love, Loss and Living (Paperback)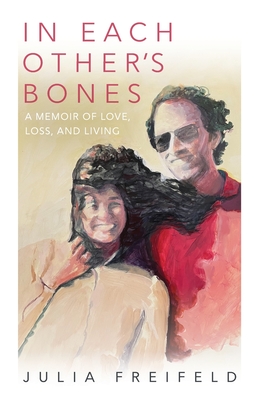 $15.95

In Warehouse, Usually Ships to Store in 1-5 Days
Description
---
Life asks us to deal with loss. It is part of the human condition. Yet we deserve joy no matter our circumstances. This book is Julia's journey from caregiver and wife to finding her separate self. It's about beginnings, endings, goodbyes, and creating anew.
---
Julia and Mark had carefully constructed a life together. Their vision for themselves, their marriage, and their children had always been in sync. Then, life took a horrifying turn. Mark was diagnosed with a fatal neurological disease with no hope for a cure. They would endure ten years of daily discussions about disease, doctors, nurses, medicines, medical equipment, and dying.
At age forty-eight, riding the waves of emotional whiplash, Julia felt too young to deal with death. But drawing upon therapy, painting, sacred rituals, and writing, she found the strength to remain at peace and not fall to pieces. Julia and Mark worked to keep their marriage strong and family together. Separately, Julia prepared for a life on her own.
Julia, a portrait artist in Raleigh, North Carolina, believes there is an art to living. Her book shows that living artfully means to embrace the cards you're dealt and to soar, express love, have beautiful days, and create anew. It is also a practical roadmap for anyone in the throes of caregiving, tackling questions like
- How do I hold my family together during times of illness?
- How do I maintain personal space/boundaries when so much is required of me?
- How do I navigate the health system and keep my sanity?
The reader may discover, "I felt that way, too. I wasn't alone."