Of Cages and Crowns (Hardcover)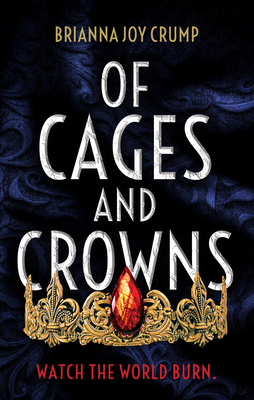 Description
---
Fire at her fingertips. Watch the world burn.

When Monroe Benson was born with the power to summon fire from her fingertips, her family knew she had to stay hidden. But when Queen Viera calls for the Culling, an age-old tradition in Erydia where ten goddess-touched girls battle to the death in order to claim the crown, Monroe can no longer hide. She's whisked away from her home, from her mother, from everything she's ever known to fight alongside the other girls–each with their own power—for a throne she does not want.

Duty is his destiny. There's no way out.

As the son of the queen and the next king, Cohen can't question tradition. Not even when he's being mysteriously poisoned. Not even when his sister goes missing and no one seems to care. The Culling makes his life's choices for him—who will become his wife, who will rule by his side. And when rebellion rises around him, what little control Cohen has over his future is threatened.

Together they'll stand. Together they'll fall.

But Monroe sees a different Cohen than the rest of the world. She sees him as more than just the crown, more than just the next cruel ruler in a long line of cruel leaders. In turn, he sees her as more than just her powers. More than just a goddess-touched girl destined to lose her life. When a betrayal threatens both their relationship and the monarchy, Monroe and Cohen face a choice that will change their lives . . . forever.


For goddess-touched girls, there is only one destiny: the Culling

From the moment Monroe Benson is born with a mark on her hand and the ability to summon fire from her fingertips, her life will never be her own. She's goddess-touched, which means she's destined to participate in the Culling, an age-old competition to determine the next queen of Erydia. For most of her seventeen years, her family has managed to keep Monroe—and her powers—hidden. But now, as Queen Viera calls for the Culling to start, and war looms on the horizon, Monroe can no longer hide. She must face her destiny whether she wants to or not.

For the ten goddess-touched girls, all with different powers, the inevitably of this fight to the death has always ruled their lives. The tradition is both barbaric and cruel, but to make matters worse—Monroe isn't prepared. She hasn't trained her whole life for this day. She doesn't want to be in the spotlight. She doesn't want the crown.

While Monroe struggles with her fate, a rebellion is brewing in the castle and in the country. A group called the Culled are banding together; their goal—to topple the monarchy. And the more they rise, the more merciless Viera is with her kingdom, recruiting younger and younger people from poorer and poorer places to fight in a war no one wants to be waging.

Monroe finds herself on the front lines of the rebellion's inner circle, and only one thing stands in her way: Cohen. The queen's son and the man who will be king. Cohen's dedication to duty, to family, to tradition stands in stark contrast to the boy Monroe sees at night in the kitchens, secretly making the two of them a snack. As the fight crescendos around them, and the death of innocents becomes a reality, the choices Monroe makes will reverberate through the kingdom . . . and her heart forever.
About the Author
---
Brianna Joy Crump grew up on the outskirts of Raleigh, North Carolina. While attending Gardner-Webb University, she fell in love with small-town college life and writing books. After a stint teaching middle school and being a barista in Raleigh, Brianna moved back to GWU to continue her education and work as a residence hall director. Brianna currently lives in the middle of a dorm and spends her days writing, helping college students, and attending far too many zoom meetings. She has her BA and MA in English. Of Cages and Crowns is her debut novel.
Praise For…
---
"Of Cages and Crowns hits . . . every YA fantasy must." —Fangirlish

"Of Cages and Crowns is an epic dystopian fantasy read that will hook you in and leave you wanting to know what will happen next." —Your Bookish Life

"If you're a fantasy geek, definitely watch out for the name of author Brianna Joy Crump." —Young Entertainment Magazine

" . . . the intriguing plot, complex characters, and brilliant writing make this a page-turner to the very end . . ." — School Library Journal