Babies with Down Syndrome: A New Parents' Guide (Paperback)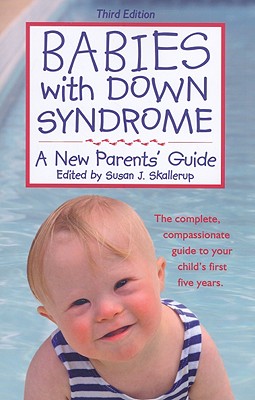 $18.95
Maybe Unavailable, Ask us
Description
---
Babies with Down Syndrome, the trustworthy guide which has benefited thousands of families since it was first published in 1985, is completely revised and updated in a new, third edition. Covering the best practices for raising and caring for children with Down syndrome through age five, this book is invaluable to new parents who have welcomed a baby with Down syndrome into their lives. This new edition incorporates the latest scientific, medical, educational research, and practical information available, as well as parents' suggestions and feedback. Existing chapters have been revised, some completely rewritten by new authors, and in keeping with its parent-friendly reputation, most of the book's contributors are parents of children with Down syndrome Chapters cover:
- What Is Down Syndrome?: A primer on the causes, characteristics, and diagnosis, including the latest information on genetics and prenatal testing;
- Adjusting to Your Baby: Advice from an experienced mother on coping with common emotions and announcing the news to friends and family;
- Medical Concerns & Treatments: An overview of possible health issues including celiac disease, sleep apnea, diabetes, reflux, and skin problems, with an emphasis on detecting signs early for needed treatment;
- Daily Care: The gamut of care from feeding to bathing, with expanded information about toilet training;
- Family Life: The impact on siblings and couples, discipline issues, and new material to help everyone understand that a child's behavior is a form of communication;
- Development & Learning: Expectations about development plus new material on variability in development, learning styles, using reading todevelop language, memory strengths and weaknesses, and using play to encourage learning;
- Early Intervention: An overview of services and therapies for babies & toddlers with new information on the transdisciplinary approach, providing services in the natural environment, transitioning preschool, and common questions & answers;
- Legal Rights & Financial Issues: Explains your child's educational and legal rights, and financial information, including the latest on federal education and civil rights laws, sources of financial assistance, health insurance, trusts, and guardianship.
Full of new photos, parent statements, updated and expanded resources and reading lists, this build everything parents need to build a bright and healthy future for their child with Down syndrome.