Superman by Grant Morrison Omnibus (Hardcover)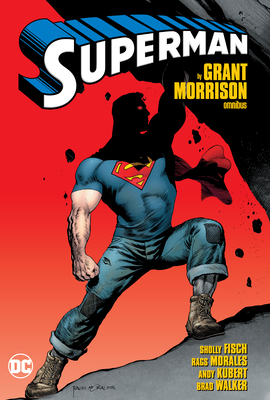 $75.00
Maybe Unavailable, Ask us
Description
---
From one of the greatest storytellers of our time—a bold reimagining of the Man of Steel!

Rocketed from a dying world. Raised by a kindly couple. Soaring into battle for truth and justice. Everybody knows the legend of Superman—but no one has ever shown you his earliest adventures quite like visionary writer GRANT MORRISON!

Clad in jeans and a T-shirt, this blue-collar champion takes on evil in every imaginable realm, from parallel Earths to alternate dimensions to the apartment next door—including familiar enemies like Lex Luthor and the Kryptonite Man as well as all-new threats like the Anti-Superman Army and Vyndktvx—all vividly brought to life by Morrison with writer SHOLLY FISCH and a legion of superartists led by RAGS MORALES, ANDY KUBERT, and BRAD WALKER!

This tremendous tome assembles all of Morrison's New 52 Superman saga in one hardcover volume for the very first time—encompassing everything from the Last Son of Krypton's action-packed debut through his climactic denouement in Dimension 5!

Collecting Action Comics #0-18 and Action Comics Annual #1, Superman by Grant Morrison Omnibus is a must-have treasury of tales from one of the most creative minds in comics—starring the greatest superhero of all time!

About the Author
---
Writer Grant Morrison is known for his innovative work on comics from the graphic novel Arkham Asylum to acclaimed runs on Animal Man and Doom Patrol, as well as his subversive creator-owned titles such as The Invisibles, Seaguy, and WE3. Grant has also written best-selling runs on JLA, Seven Soldiers of Victory, and New X-Men, and helped to reinvent the DC Universe in The Multiversity, All Star Superman, 52, Batman, Batman & Robin and Batman, Inc.

Rags Morales started his DC career working on comics based on TSR's role-playing games such as Advanced Dungeons and Dragons. His first super-hero series for DC Comics was the Black Condor. Since then, he has worked on most of DC's major heroes including a long run on JSA and Hawkman, which served as warm-ups to the best-selling Identity Crisis written by New York Times # 1 bestselling author Brad Meltzer. Since then, he has illustrated the adventures of Wonder Woman and Batman: Confidential.