Can You Hear the Trees Talking?: Discovering the Hidden Life of the Forest (Hardcover)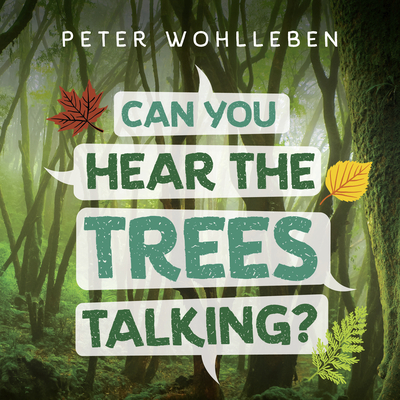 $19.95

In Warehouse, Usually Ships to Store in 1-5 Days
Description
---
WINNER OF THE AAAS/SUBARU PRIZE FOR EXCELLENCE IN SCIENCE BOOKS
BASED ON THE NEW YORK TIMES BESTSELLER THE HIDDEN LIFE OF TREES
This interactive book for kids aged 8-10 introduces the wonderful science of the forest through outdoor activities, quizzes, fun facts, photographs, and more
Discover the secret life of trees with this nature and science book for kids: Can You Hear the Trees Talking? shares the mysteries and magic of the forest with young readers, revealing what trees feel, how they communicate, and the ways trees take care of their families. The author of The Hidden Life of Trees, Peter Wohlleben, tells kids about the forest internet, aphids who keep ants as pets, nature's water filters, and more fascinating things that happen under the canopy.
Featuring simple activities kids can try on their own, along with quizzes, photographs, and more, Can You Hear the Trees Talking? covers a range of amazing topics including: :
How trees talk to each other (hint: through the wood wide web )
Why trees are important in the city
How trees make us healthy and strong
How trees get sick, and how we can help them get better
This engaging and visually stunning book encourages at-home learning and fun as kids discover the wonder of the natural world outside their windows.
"Lush full-color photos and pictures create an immersive experience and the layout facilitates engaged, delighted learning. ...this book may prompt frequent family visits to, and a new appreciation for, neighborhood trees and local forests."--Washington Parent
About the Author
---
Peter Wohlleben spent over twenty years working for the forestry commission in Germany before leaving to put his ideas of ecology into practice. He now runs an environmentally-friendly woodland in Germany, where he is working for the return of primeval forests. He is the author of numerous books about the natural world including The Hidden Life of Trees, The Inner Lives of Animals, and The Secret Wisdom of Nature, which together make up his bestselling The Mysteries of Nature Series. He has also written numerous books for children including Can You Hear the Trees Talking? and Peter and the Tree Children. To learn more about Peter and his books, visit his website at peterwohllebenbooks.com. Tim Flannery is a scientist, explorer and conservationist. He is a leading writer on climate change and his books include Atmosphere of Hope and The Weather Makers.Jane Billinghurst's career has been in book publishing in the UK, the US, and Canada, as an editor, publisher, writer, and translator. She is the translator of the New York Times-bestseller The Hidden Life of Trees by German forester Peter Wohlleben.