Euphoria Kids (Paperback)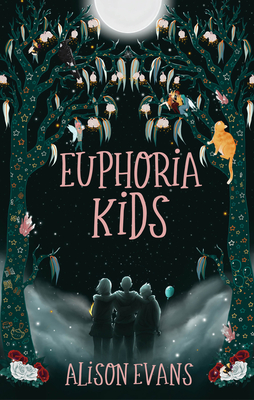 $15.99

In Warehouse, Usually Ships to Store in 1-5 Days
Description
---
Ever since the witch cursed Babs, she turns invisible sometimes. She has her mom and her dog, but teachers and classmates barely notice her. Then, one day, Iris can see her. And Iris likes what they see. Babs is made of fire.

Iris grew from a seed in the ground. They have friends, but not human ones. Not until they meet Babs. The two of them have a lot in common: they speak to dryads and faeries, and they're connected to the magic that's all around them.

There's a new boy at school, a boy who's like them and who hasn't yet found his real name. Soon the three of them are hanging out and trying spellwork together. Magic can be dangerous, though. Witches and fae can be cruel. Something is happening in the other realm, and despite being warned to stay away, the three friends have to figure out how to deal with it on their own terms.

Anyone who loves the work of Francesca Lia Block and delights in Studio Ghibli films will be entranced by this gorgeous and gentle young adult novel about three queer friends who come into their power.
About the Author
---
Alison Evans' first YA book, Ida, won the People's Choice Award in the Victorian Premier's Awards 2018, was shortlisted in the 2017 Aurealis Awards, and was longlisted for a 2018 Gold Inky Award. Alison is the co-editor of the zine Concrete Queers, which they started with Katherine Back in 2015. So far, the zine has featured over sixty queer artists. Alison has been an artist at Melbourne Writers Festival, Emerging Writers Festival, National Young Writers Festival, Reading Matters, and Feminist Writers Festival, and has done many library and bookshop events.
Praise For…
---
'More than just a coming-of-age novel, this is a story about queer teenagers realising the magic they have and allowing themselves to own it.' —
The Saturday Paper
"Enchanting, whimsical, and refreshing. . . .Coming into Euphoria Kids, I knew that it had witches and it had trans and non-binary characters in it, but that was all. Whilst reading, I was not disappointed as it was so cute and heartwarming, and free of a lot of romance, which is something you don't see very often in a lot of modern young adult literature! . . Definitely lives up to the 'perfect for Studio Ghibli fans' quote that is on the back cover! Overall, I really enjoyed the whimsical nature of this story, and I loved how all the parents were super accepting of the main characters, something we often don't see in your typical young adult books." —Nerd Daily
"If I was only to read one book my entire life, I would make it this one. The entire point of reading is to transport yourself into another world and be somewhere other than this crazy, messed up Earth. No matter how shitty life gets, books give us hope and life and that's exactly what Euphoria Kids does. Alison has made it know that they wanted to write a book in which trans kids felt safe and happy. Not only do I believe they have done that, but they've also created a novel that promotes love and acceptance in a version of our own reality, removing negativity and toxicity from the fictional world." —Jasper & Spice
★ "
Euphoria Kids 
is a remarkable story. Its focus on its young LGBTQ+ leads, who navigate perilous situations in the process of self-discovery, is directed by positivity." —
Foreword Reviews
, starred review
"A gentle meditation on finding your people and coming into your own magic." —
Kirkus Reviews
"Perfect for fans of Francesca Lia Block and Aiden Thomas, this will also appeal to fantasy and magical-realism enthusiasts." — 
Booklist