Death Comes to Marlow: A Novel (The Marlow Murder Club) (Paperback)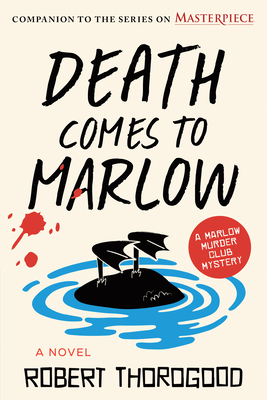 Description
---
"Fiendishly clever." —Kirkus Reviews
"Judith and Co have to bring all their bonkers interview techniques and leaps of logic into play to uncover the truth." —Crime Fiction Lover 
BBCOne show creator of Death in Paradise, Robert Thorogood delights in giving the Christie-mystery a busy-body twist. Judith (our favorite skinny-dipping, whiskey-sipping, crossword puzzle author), along with Becks the vicar's wife, and Susie the dogwalker find themselves in a head-scratching, utterly clever country house, locked-room murder mystery. 
Holiday festivities are now January doldrums when Judith gets a call—Sir Peter Bailey, a prominent Marlovian is inviting notable citizens to his house the day before his wedding to celebrate. 
Judith decides to go—after all, it's a few houses up the Thames and free champagne, for sure. During the party, a loud crash inside stops the festivities. The groom-to-be has been crushed to death in his study. The door was locked from the inside so the police say suicide, obviously. 
Friends. Sir Peter cannot be left for dead like that…Judith and the Marlow Murder Club are on the case.   
Next in series from 2023 EDGAR AWARD NOMINEE, LILIAN JACKSON BRAUN AWARD for Marlow Murder Club
Readers love The Marlow Murder Club:
"A delightful story that involves an unlikely trio of amateur detectives. Loved the English setting the quirky characters."
"A very cleverly-constructed puzzle. Definitely worth reading!"
"Excellent mystery!"
About the Author
---
Robert Thorogood is an English screenwriter and novelist. He is the creator of the BBC One murder mystery series Death in Paradise.
Praise For…
---
"Put on your thinking cap. It's time for another round with the brainiest trio of amateur sleuths on either side of the Atlantic...As anodyne as a village fair and as fiendishly clever as one of the many crossword clues embedded in the story." — Kirkus Reviews

"Thorogood's characters are vivid and companionable, the dialogue sparkles with wit, and the plot gives armchair detectives a fighting chance to solve the mystery. This is good, fast-moving fun." — Publishers Weekly

"Thorogood expertly crafts a locked-room mystery reminiscent of Agatha Christie's well-plotted stories. Readers will enjoy piecing together this engaging puzzle alongside members of the Marlow Murder Club." — BookPage