Blue Baboon Finds Her Tune (Hardcover)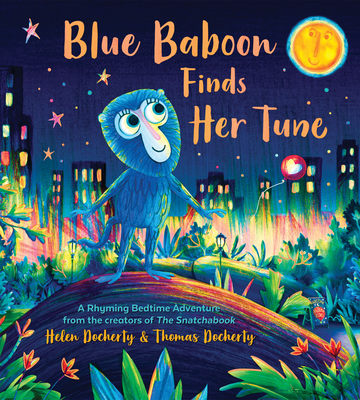 $14.99

In Warehouse, Usually Ships to Store in 1-5 Days
Description
---
From the author/illustrator team behind The Snatchabook comes a music-filled journey to bedtime.
"Orange moon,
blue baboon.
Blue baboon
spies bassoon."
Blue baboon is eager to play the bassoon with her new friends. But a monsoon threatens to spoil the fun. Fortunately a big balloon arrives in time to carry them to a dune where they can all play in tune together!
Praise for The Storybook Knight:
"A plot summary doesn't do justice to the childlike charm and wit of this colorful picture book."—Booklist
Praise for The Snatchabook
"I dare you to try to read The Snatchabook silently to yourself. You can't do it. The book is so wonderful it demands to be read out loud. And besides, if you didn't read the book out loud, how would the Snatch-a-book hear it?"—Caldecott Medalist Brian Selznick
"This ever-so-sweet story begs to be read out loud. No doubt this one will be a hit with kids and parents alike."—Booklist
"With rhyming text reminiscent of Dr. Seuss's work, this book refuses to be read silently. Children will be begging for this book to be read to them every night—clever ones will claim they want to keep the Snatchabook happy."—School Library Journal
"The story is sweet and the illustrations darling."—Kirkus Reviews
"This whodunit with an uplifting ending will appeal to fans of How the Grinch Stole Christmas!...[It] celebrates bedtime reading as a ritual to be revered, and features a thief who merely wants to share in the fun."—Shelf Awareness Pro
About the Author
---
Helen Docherty has spent most of her career as a language teacher, most recently specializing in Spanish. She lives in Wales with her husband and co-author, Thomas, and their two young daughters.
Thomas Docherty studied metalwork and sculpture at college before becoming an illustrator of children's book. He lives in Wales with his wife and co-author Helen and their two young daughters. His website is thomasdocherty.co.uk.
Praise For…
---
"There are great rhymes in this book, and it is a great readaloud!" - Unleashing Readers

"An eye-catching palette and charming characters will draw readers in from the very first page" — Kirkus Reviews

"An eye-catching palette and charming characters will draw readers in from the very first page" — Kirkus Reviews

"Charming and delightful... This book will engage young children and comes highly recommended" — Children's Literature Comprehensive Database

"Dazzling" — Youth Services Book Review

September 2021 Amazon Pick of the Month

"The Dochertys' illustrations are as engaging as their rhymes." — The Wall Street Journal

"The words were easy for me to read, but I still learned some new ones (bassoon, dune, croon) and I like how they all rhymed, which made it easy to guess and sound out the words that I didn't already know... . It has a happy ending for everyone!" — Kids' Book Buzz

"Wonderfully sweet and vibrantly illustrated....Readers will find much to enjoy in Helen Docherty and Thomas Docherty's inviting and bright story world." — Fab Book Reviews

"A sweet story featuring animal characters and an endearing ending... wonderful to read aloud" — Booklist

"Named an Amazon Best Book of the Year (2022)" —

"This is a wonderful book—full of vibrant individuality and joy in creativity." — Oregon Coast Youth Book Preview