A Very Old Man: Stories (Paperback)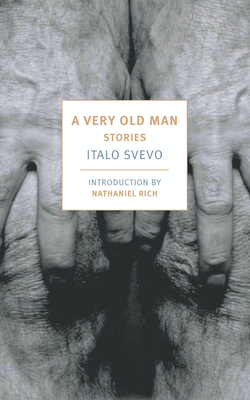 $15.95

Coming Soon - Available for Pre-Order Now
Description
---
A newly translated collection of fiction by the influential Italian modernist, continuing on his landmark work Zeno's Conscience.

A Very Old Man collects five linked stories, parts of an unfinished novel that the great Triestine Italo Svevo wrote at the end of his life, after the international success of Zeno's Conscience in 1923.

Here Svevo revisits with new vigor and agility themes that fascinated him from the start—aging, deceit, and self-deception, as well as the fragility, fecklessness, and plain foolishness of the bourgeois paterfamilias—even as memories of the recent, terrible slaughter of World War I and the contemporary rise of Italian fascism also cast a shadow over the book's pages.

It opens with "The Contract," in which Zeno's manager, the hardheaded young Olivi, expresses, like the war veterans who were Mussolini's early followers, a sense of entitlement born of fighting in the trenches. Zeno, by contrast, embodies the confusion and paralysis of the more decorous, although sleepy, way of life associated with the onetime Austro-Hungarian Empire which for so long ruled over Trieste but has now been swept away.

As always, Svevo is attracted to the theme of how people fail to fit in. It is they, he suggests, who offer a recognizably human countenance in a world ravaged by the ambitions and fantasies of its true believers.
About the Author
---
Italo Svevo (1861–1928) was an Italian writer and businessman. He published two novels in the 1890s, A Life and As a Man Grows Older (the latter available from NYRB Classics), but after they were dismissed by critics and ignored by the public, he abandoned literature and went to work in his father-in-law's paint business. With the support of James Joyce, he returned to writing and published Zeno's Conscience in 1923 to international acclaim. Svevo had finished a new book and was at work on another when he was killed in a car crash in 1928. 

Frederika Randall (1948–2020) was a writer, reporter, and translator. Among her translations are Ippolito Nievo's Confessions of an Italian and, for NYRB Classics, Guido Morselli's Dissipatio H.G. and The Communist. She received the National Endowment for the Arts Literature Fellowship for Translation and the PEN/Heim Translation Fund Grant, and with Sergio Luzzatto, the Cundill Prize.
 
Nathaniel Rich is the author of Losing Earth: A Recent History, a finalist for the PEN/E.O. Wilson Literary Science Award; the novels King Zeno, Odds Against Tomorrow, and The Mayor's Tongue; and the Little Bookroom title San Francisco Noir. He is a writer-at-large for the New York Times Magazine and a regular contributor to The Atlantic, Harper's, and The New York Review of Books. He lives in New Orleans.
Praise For…
---
"For Svevo, life itself is a fatal pathology, the human condition a sickness for which there is no cure. There exists a treatment, however: laughter. Though the miseries of old age and fear of death are central to his late stories, a huge amount of laughter occurs in A Very Old Man." —Sigrid Nunez, Harper's Magazine