A Door in the Dark (Waxways #1) (Hardcover)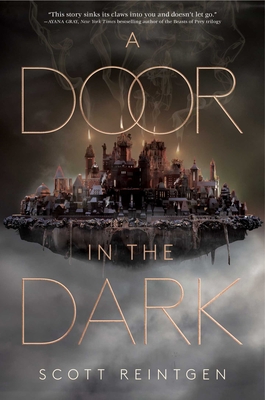 Other Books in Series
This is book number 1 in the Waxways series.
Description
---
An instant New York Times bestseller!

"For readers who have just finished Naomi Novik's The Golden Enclaves and are ravenous for more dark academia" (Booklist), this "pulse-pounding" (Publishers Weekly, starred review) fantasy thriller follows six teenage wizards as they fight to make it home alive after a malfunctioning spell leaves them stranded in the wilderness.

Ren Monroe has spent four years proving she's one of the best wizards in her generation. But top marks at Balmerick University will mean nothing if she fails to get recruited into one of the major houses. Enter Theo Brood. If being rich were a sin, he'd already be halfway to hell. After a failed and disastrous party trick, fate has the two of them crossing paths at the public waxway portal the day before holidays; Theo's punishment is to travel home with the scholarship kids—which doesn't sit well with any of them.

A fight breaks out. In the chaos, the portal spell malfunctions. All six students are snatched from the safety of the school's campus and set down in the middle of nowhere. And one of them is dead on arrival.

If anyone can get them through the punishing wilderness with limited magical reserves it's Ren. She's been in survival mode her entire life. But no magic could prepare her for the tangled secrets the rest of the group is harboring, or for what's following them through the dark woods…
About the Author
---
Scott Reintgen is a former public school teacher from North Carolina. When he's not writing, he uses his imagination to entertain his wife, Katie, and their three children. Scott is the New York Times bestselling author of the Waxways series, the Nyxia trilogy, and the Celia Cleary series for younger readers. You can find him on Instagram @Reintgen, on X (previously known as Twitter) @Scott_Thought, or on his website at ItsPronouncedRankin.com.
Praise For…
---
* "A pulse-pounding series launch from Reintgen. Reintgen combines inventive worldbuilding, intricate plotting, and a strongly developed, racially diverse cast to craft a twisty tale of classism, redemption, and revenge."
— Publishers Weekly, starred review

* "Placing elements of a locked-room mystery and an original magic system within the familiar trappings of a school for magic, this is a no-holds-barred tale of revenge, atonement, and the pursuit of justice set in a world diverse in skin color and social classes. Ren is a protagonist for the ages: equal parts smart, calculating, and ruthless, forming a lethal package as an avenging angel. Truly fantastic."
— Kirkus Reviews, starred review

"Readers craving the electrifying twists and turns of a thriller alongside a healthy dose of magic will find their prayers spectacularly answered in Reintgen's A Door in the Dark. With dexterous prose, an impellent plot, and characters you can't turn away from, this story sinks its claws into you and doesn't let go."
— --Ayana Gray, New York Times-bestselling author of the Beasts of Prey trilogy

"Magical boarding school students mysteriously stranded in a hostile wilderness? Yes, please. Reintgen blends thriller and fantasy in an absolute page-turner. I love when you don't see the twists coming, and this flawlessly delivers."
— --K.D. Edwards, author of The Tarot Sequence