The Traveling Vegan Cookbook: Exciting Plant-Based Meals from the Mediterranean, East Asia, the Middle East and More (Paperback)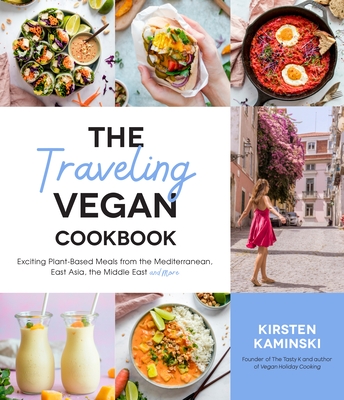 $21.99
Maybe Unavailable, Ask us
Description
---
Take a Journey With the Best Vegan Recipes the World Has to Offer!

Kirsten Kaminski, creator of The Tasty K and vegan travel aficionado, is here to take you on a voyage through incredible plant-based versions of her favorite international recipes, all from the comfort of your own home. And with helpful tips and tricks for traveling as a vegan, you'll never go hungry on any of your future globe-trotting adventures.

Whip up a feast for your guests with a mezze platter inspired by Kirsten's memories of many warm nights spent in cozy Greek taverns, or indulge in a smooth and rich Lentil Moussaka, featuring a homemade béchamel sauce based on a favorite recipe from her time living in Cyprus. Discover the plant-based way to make sabich (complete with a vegan "egg") through a recipe that mimics the creamy, silken version she came to love while living in Tel Aviv. Fall head over heels for matcha, just as Kirsten did during her travels in Japan, as you luxuriate in totally dairy-free Matcha Ice Cream. And be transported to the sunny streets of Mexico as you bite into the tender, street-style Elotes that call back to her high school years.

With this exciting cookbook, you'll eat your way through the Mediterranean, Middle East, Asia and Latin America, all without compromising flavor or your vegan diet. So take a bite, take a journey and let The Traveling Vegan Cookbook be your guide to showstopping deliciousness from around the world.
About the Author
---
Kirsten Kaminski is the author of Vegan Holiday Cooking and the founder of the vegan cooking blog, The Tasty K. Her recipes have been featured in Thrive magazine, Best of Vegan and feedfeed. She lives in Berlin, Germany.
Praise For…
---
"This book is like traveling the culinary world from the comfort of your kitchen, experiencing the best of vegan cuisine from all parts of the globe!"
—Kip Andersen, award-winning director of Cowspiracy and What the Health

"If you're looking for tasty yet approachable plant-based recipes filled with wanderlust and nostalgia, this book is for you."
—Kim-Julie Hansen, founder of Best of Vegan and author of Vegan Reset

"For lovers of flavorsome food, this book really hits the nail on the head. These dishes take you on a journey with tastes from around the world, without ever having to leave your kitchen!"
—Christina Leopold, author of No-Bake Vegan Desserts and founder of Addicted to Dates

"This is a delicious global adventure of a book—Kirsten is such a talented vegan recipe creator and this cookbook adds in a wanderlust element that makes it uniquely inspiring!"
—Natalie Thomas, founder of Feasting on Fruit

"Kirsten makes it possible to enjoy food from around the world, but 100% vegan. These recipes will absolutely spice up your cooking!"
—Remy Park, founder of Veggiekins

"Kirsten has created a masterpiece with her new book! This collection will have you feeling like you are on a vacation with every bite."
—Brandi Doming, author of The Vegan 8