Sourdough Every Day: Your Guide to Using Active and Discard Starter for Artisan Bread, Rolls, Pasta, Sweets and More (Paperback)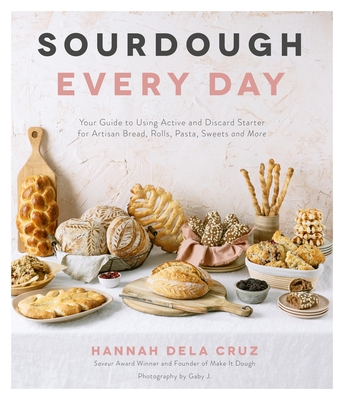 Description
---
55 Creative Recipes for Your Daily Dose of Sourdough

Take your sourdough baking to the next level with Hannah Dela Cruz's innovative recipes for rustic loaves, soft sandwich breads, flatbreads, crackers, pasta, breakfast favorites, desserts and more using your active and discard starter. A self-taught home baker herself, Hannah guides you easily through all the steps of sourdough baking, from how to create and maintain your starter, to how to bake your first loaf, to making an incredible range of breads and more. She'll even show you how to transform your extra discard into delicious sourdough-inspired treats.

Use your active starter to make classics like the Whole Wheat Country Loaf and twists on traditional flavors like the Mexican Hot Chocolate Rye Loaf or the Semolina Chili-Cheddar Loaf. Add an extra-special touch to your lunchtime sandwich with Honey Butter Rolls, and savor filled breads like Sweet Potato–Cardamom Buns, Garlic Butter Couronne and Cherry-Chocolate Babka.

Not to mention, Hannah's brilliant discard recipes are the perfect waste-free solution for sourdough lovers who hate throwing away the extra discard after they feed their starter. She shows you how to use your discard in breakfast treats, cakes, cookies, snacks, pasta dough, dumplings and indulgent desserts, all enhanced with that signature sourdough flavor. With so many options for beginners and experienced bakers alike, this collection will get you excited to bake sourdough every day of the week!
About the Author
---
Hannah Dela Cruz is the founder of Make It Dough, a sourdough baking blog that won the Saveur magazine Special Interest award. She lives in Las Vegas, Nevada.
Praise For…
---
"This book inspires and motivates, pushing us to get in the kitchen, scoop out some sourdough starter and get baking."
—Maurizio Leo, founder of The Perfect Loaf

"The possibilities with sourdough are truly endless, and you'll love discovering what you can make with your starter—let Hannah show you how!"
—Elaine Boddy, author of Whole Grain Sourdough at Home and founder of foodbod Sourdough

"Sourdough Every Day will inspire you with its mouthwatering and wide-ranging collection of recipes. It's a must-have for any sourdough baker!"
—Michael Hilburn, host of The Sourdough Podcast

"Hannah's instructions have always made things easier for us home bakers. Her new book captures that same simplicity."
—Jim Challenger , founder of Challenger Breadware