Good Thinking: What You Need to Know to be Smarter, Safer, Wealthier, and Wiser (Paperback)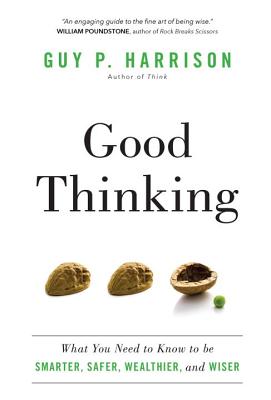 $17.00

On Our Shelves Now (Updated at the end of every day)
Description
---
Critical-thinking skills are essential for life in the 21st century. In this follow-up to his introductory guide Think, and continuing his trademark of hopeful skepticism, Guy Harrison demonstrates in a detailed fashion how to sort through bad ideas, unfounded claims, and bogus information to drill down to the most salient facts. By explaining how the human brain works, and outing its most irrational processes, this book provides the thinking tools that will help you make better decisions, ask the right questions (at the right time), know what to look for when evaluating information, and understand how your own brain subconsciously clouds your judgment.  

Think you're too smart to be easily misled? Harrison summarizes scientific research showing how easily even intelligent and well-educated people can be fooled. We all suffer from cognitive biases, embellished memories, and the tendency to kowtow to authority figures or be duped by dubious 'truths' packaged in appealing stories. And as primates we are naturally status seekers, so we are prone to irrational beliefs that seem to enhance our sense of belonging and ranking. Emotional impulses and stress also all too often lead us into traps of misperception and bad judgment.      

Understanding what science has discovered about the brain makes you better equipped to cope with its built-in pitfalls. Good Thinking--the book and the practice-- makes clear that with knowledge and the right thinking skills, anyone can lead a safer, wiser, more efficient, and productive life.
About the Author
---
Guy P. Harrison is an award-winning journalist and the author of Think: Why You Should Question Everything; 50 Simple Questions for Every Christian; 50 Popular Beliefs That People Think Are True;  50 Reasons People Give for Believing  in a  God; and Race  and Reality: What Everyone Should Know about Our Biological Diversity.
Praise For…
---
"We're drowning in information, but it's as difficult as ever to make smart, fact-based decisions. As Guy P. Harrison shows, 'good thinking' doesn't just happen—and he has crafted an engaging guide to the fine art of being wise."
 
—William Poundstone, author of Rock Breaks Scissors: A Practical Guide to Outguessing and Outwitting Almost Everybody


"For all our vaunted intelligence, we human beings believe some really bizarre things. Guy P. Harrison takes us on a judicious, wide-ranging, and entertaining tour of the many dimensions of human mental weirdness, pointing out where we need to be particularly on guard against our poor decision-making processes."
 
—Ian Tattersall, curator emeritus, American Museum of Natural History


"Harrison explains why so many smart, well-educated people are capable of making terrible decisions for themselves and their children. It's a 'how-to' book on how to get it right."
 
—Paul A. Offit, MD, author of Bad Faith: When Religious Belief Undermines Modern Medicine
 

"In Good Thinking, Guy P. Harrison explores the human brain from the perspectives of evolution, anatomy, function, and psychology to show why people are so often deluded by irrational perceptions and beliefs. He successfully promotes an approach to critical thinking that, as he puts it, can turn 'bad thinking to good.' I learned much from this informed, readable, and entertaining book."
 
—Daniel J. Fairbanks, dean of the College of Science and Health, Utah Valley University, and author of Everyone Is African: How Science Explodes the Myth of Race
 

"Science has taught us a lot about how we think—what we do well, how we go astray, and how we can do better. In Good Thinking, an engagingly written book, Guy P. Harrison lets us in on relevant knowledge from the social, behavioral, and biological sciences; and he shows us how to put that knowledge to work."
 
—Jefferson M. Fish, professor emeritus of psychology, St. John's University, New York City


"Nature gave us powerful brains but didn't provide us with a user manual. Consequently, far too many people fail to use their brains optimally, often with catastrophic consequences. Thank goodness for Good Thinking. In this important, beautifully written, and well-researched book, Guy P. Harrison gives us the key tools we need to understand how our brains work, how best to use them, and how to take care of them. With clarity, eloquence, and unbridled passion, Harrison makes a compelling case for skepticism and critical thinking, and shows us why it is of vital importance to our species. Adding Good Thinking to your bookshelf should be a no-brainer!"
 
—Julien Musolino, associate professor of psychology and cognitive science, Rutgers University, and author of The Soul Fallacy: What Science Shows We Gain from Letting Go of Our Soul Beliefs


PRAISE FOR THINK:

"Harrison's upbeat style nicely conveys some of the latest scientific research on how the mind functions... Harrison's inviting style serves the interests of skeptics and scientists who face the onslaught of nonsense, delusion, ignorance, stupidity, and bias that dominates today's muddled culture... Highly recommended."

—Library Journal


"Terrific, useful, well-written, and just plain entertaining. ...Think is a book that should be on every skeptic's bookshelf, and, more importantly, the bookshelf of anyone who is not yet convinced that science is the best way to know."

—Skeptical Inquirer


"Very useful.... Harrison demonstrates the need for critical analysis in a world of conflicting stories and glib "facts."'

—Publishers Weekly


PRAISE FOR 50 POPULAR BELIEFS THAT PEOPLE THINK ARE TRUE:

"With a combination of lively prose and keen analytical reasoning, the author examines some of contemporary culture's most commonly held beliefs.... A valuable, not to mention very entertainingly written, addition to the literature of skepticism."

—Booklist STARRED REVIEW


"This book will blow readers' minds (and it should) by making them realize how easy it is to hold a strong belief without applying either critical thinking or skepticism.... An outstanding book that is required reading no matter what you believe."

—Library Journal


"Rarely has a skeptic gone to battle against nonsense with the warmth and humor found in 50 Popular Beliefs....[A] grand tour though the bizarre ecosystem of irrational beliefs and extraordinary claims.... It is clear, comprehensive, non-threatening yet thought provoking while remaining accessible. It's also a much welcomed and needed addition to every skeptic's reading list."

—Skeptic Magazine