Mary Astor's Purple Diary: The Great American Sex Scandal of 1936 (Paperback)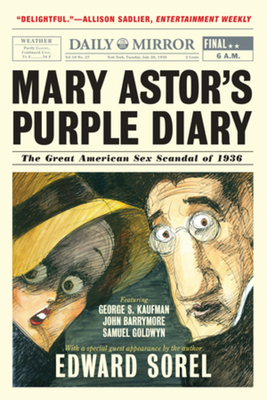 $17.95

On Our Shelves Now (Updated at the end of every day)
Description
---
A hilarious send-up of sex, scandal, and the Golden Age of Hollywood by legendary cartoonist Edward Sorel.
In 1965, a young, up-and-coming illustrator by the name of Edward Sorel tore away layer after layer of linoleum from the floor of his $97-a-month Manhattan apartment until he discovered a hidden treasure: issues of the New York Daily News and Daily Mirror from 1936, each ablaze with a scandalous child custody trial taking place in Hollywood starring the actress Mary Astor—and the journal in which she detailed her numerous affairs. Thus began a half-century obsession that reached its peak in Mary Astor's Purple Diary, "a thoroughly charming" (New York Times Book Review, front-page review) account of the scandal in which Sorel narrates and illustrates the travails of the Oscar-winning actress alongside his own personal story of discovering an unlikely muse. Now in a stunning paperback, featuring more than sixty ribald and rapturous original illustrations, Mary Astor's Purple Diary is the life's masterpiece of one of America's greatest illustrators.
About the Author
---
Edward Sorel is an illustrator, caricaturist, and cartoonist whose satires and pictorial essays have appeared in Vanity Fair, the Atlantic, the Nation, and The New Yorker, for which he has done forty-six covers. He lives in New York City.
Praise For…
---
Now we have [Edward] Sorel's highly personal and idiosyncratic and (this is the revelation) wonderfully written account of one man's fandom. . . . There's so much life and humor in Sorel's drawings, 50 of which provide the book with its wry comic personality. Sorel treats his obsession with affectionate self-deprecation and considerable imagination.
— Michael Phillips - Chicago Tribune

There hasn't been another celebrity biography like it. Not even close. . . . Sorel's illustrations, 50 in all, are funny, melodramatic, eye-catching. They lampoon and adore in the same moment. . . . Sorel's passion is infectious.
— Sheila O'Malley - RogerEbert.com

Terrific. . . . Who would figure that Mary Astor's life would provide such entertaining reading, but in Sorel's colloquial, eccentric style, the tale he tells is juicy, funny and, in the end, touching. . . . Sorel has told Astor's story with great flair and energy. I hope he gets his wish and over time Mary winds up commemorated on a postage stamp.
— Woody Allen, New York Times Book Review, front-page review

Edward Sorel is the United States's best political cartoonist. . . . Each Sorel illustration is rich with the artist's indulgent line and ironic use of shadow, which conveys the complexity of human foibles better than almost anybody.
— Jonathan Shapiro - Los Angeles Review of Books

Delightful, colorful, and occasionally cheeky.
— Allison Sadlier, Entertainment Weekly

[A] beautifully illustrated little book.
— Joan Baum, WSHU

Sorel leads us on a rollicking tour through scads of cads and scandal in Old Hollywood, of which Mary Astor was a packaged, commoditized product. . . . The two-page reclining nude of Mary that graces the book's end-paper, surrounded as she is by the defining elements of her celebrity, is by itself worth the purchase price.
— Jennifer Bort Yacovissi, Washington Independent Review of Books

[Sorel is] rapier-sharp. . . . Mr. Sorel has produced a love letter to his unlikely heroine . . . a slender volume with four dozen full-color illustrations that reanimates a footnote in American popular culture into a ribald romp. . . . With a tip of his pen to Daumier, the artist evokes the quaint, febrile glamour of Astor's Hollywood, and his affectionate, conversational prose gives Mary and her story a kind of valiant dignity never bestowed while she lived.
— Edward Kosner, Wall Street Journal

Sorel's pictures focus on the most dramatic aspects of Astor's story, creating images that are full of action, humor, sex and intrigue. [The drawings] are beautifully colored and bubbling with life. . . . [A] breezy, unique and well-researched take on one of Hollywood's most salacious scandals. While it doesn't shy away from the sensational aspects of the story, it is ultimately a respectful tribute to Astor's strength, intelligence and passion.
— KC - A Classic Movie Blog