Great Vegan BBQ Without a Grill: Amazing Plant-Based Ribs, Burgers, Steaks, Kabobs and More Smoky Favorites (Paperback)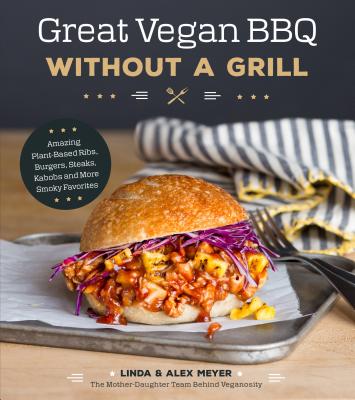 $21.99

On Our Shelves Now (Updated at the end of every day)
Description
---
*Named one of the best new cookbooks for summer by The Washington Post!*

All Your Favorite BBQ Dishes Made Deliciously Plant-Based!

Great Vegan BBQ Without a Grill is the easy and convenient way to BBQ anywhere, anytime while keeping to your healthy vegan lifestyle. Linda Meyer and her daughter Alex take you on a tour of America's best BBQ, inspired by their family road trips to South Carolina, Louisiana, Texas and more. They'll show you how to easily replicate the smoky flavors and textures of classic BBQ meats using a grill pan or cast iron skillet—no outdoor grill or smoker required!

Sink your teeth into Texas BBQ Brisket dripping with Big Mama's Homemade BBQ Sauce, and win the war on bland, crumbling veggie burgers with Smoky Chipotle BBQ Black Bean Burgers. Featuring more than 70 recipes, each paired with a mouthwatering photo, you can create a real hoedown with dishes such as "Honey" BBQ Ribz, Beer Braised Pulled "Pork" Sandwiches, BBQ Jerk Chick'n and Carolina Coleslaw. These amazing recipes will become your go-to vegan choices for all your BBQ cravings.
About the Author
---
Linda Meyer and her daughter Alex run the vegan food blog Veganosity. They've had recipes featured on the websites of The Kitchn, One Green Planet, PETA, Shape, Fitness, Better Homes and Gardens and Vegan Food & Living. They have also done recipe development for many common food brands such as Dole, Silk, Barilla, Kellogg and more. Linda and Alex live in Chicago, Illinois.
Praise For…
---
"Hospitable omnivorous host, meet your summertime kitchen helper. Pulled sweet potatoes with chipotle barbecue sauce and a Southern-style skillet corn bread with maple butter sound good for all, right? The mother-daughter co-authors of this book devised recipes for year-round cooking, but we think that much of what hits a grill pan indoors can work outside on the Weber as well."
—The Washington Post

"A mother and daughter team up in this entertaining vegan primer to produce the feel of outdoor grilling in the kitchen. ...Those new to vegan cooking will appreciate the Meyers' straightforward approach as well as their emphasis on practical vegan fare."
—Publisher's Weekly

"Linda and Alex have created a wonderful cookbook that proves you don't need animal products on your plate to enjoy good BBQ."
—Gene Baur, founder of Farm Sanctuary

"This book will have you swooning over all the craveable BBQ-infused, saucy, smoky comfort food flavors! These recipes are perfect for family meals with everyone—even those who aren't plant-based."
—Kathy Patalsky, founder of Healthy Happy Life and author of Healthy Happy Vegan Kitchen

"Linda and Alex have you covered for all your vegan BBQ needs. The best thing to me is that no grill is needed!"
—Kathy Hester, bestselling author of The Ultimate Vegan Cookbook for Your Instant Pot® and The Great Vegan Bean Book

"I can always count on Linda and Alex to come up with flavorful, creative vegan recipes that inspire me. Their dishes are the type that I'd gladly cook up and serve any omnivorous friends or family members, just to prove how amazing vegan food can be."
—Alissa Saenz, founder of Connoisseurus Veg