What Will Fit? (Storytelling Math) (Board book)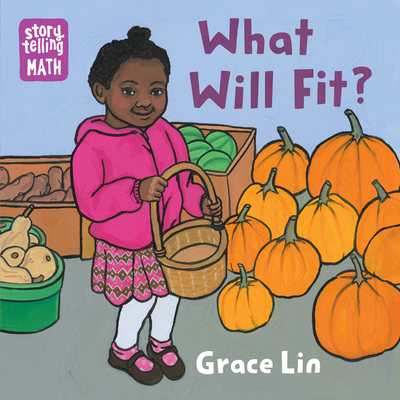 $7.99

In Warehouse, Usually Ships to Store in 1-5 Days
Description
---
Caldecott Honor winner Grace Lin celebrates math for every kid, everywhere!

Take a trip to the farmers' market in this playful story about spatial sense. Olivia is searching for something just the right size to fill her basket. The apple is so small that it rolls around. The zucchini is so long that it sticks out. What will fit just right?

Storytelling Math celebrates children using math in their daily adventures as they play, build, and discover the world around them. Joyful stories and hands-on activities make it easy for kids and their grown-ups to explore everyday math together. Developed in collaboration with math experts at STEM education nonprofit TERC, under a grant from the Heising-Simons Foundation.
About the Author
---
Grace Lin is the author and illustrator of more than twenty books for children, including the Newbery Honor Book Where the Mountain Meets the Moon (Little, Brown), the Geisel Honor Book Ling and Ting: Not Exactly the Same! (Little, Brown), and The Ugly Vegetables. She is also the co-author and illustrator of Our Seasons. She lives in Florence, Massachusetts.
Praise For…
---
♦ When Olivia heads to the farmer's market, she has a goal: "I want to fill my basket./ What will fit just right?" A beet is too small—"There's so much space around it that it rolls"—and the apple is, too. An eggplant "is not wide enough," and a zucchini isn't right, either: "When I turn it, it's too tall." Then a display of pumpkins catches her eye: "Yay! Just the right size." Lin's clear, simple language describing how Olivia solves the problem is amplified in her perceptive artwork, which cannily mixes painterly textures and captivating details (Olivia's pink polka-dotted socks; a green blanket spread with decorative corn) with graphical simplicity to show a small Black child as she ponders, puzzles, and experiments with placing different things in the basket. Includes a brief explanation of the importance of spatial sense, and three suggested learning activities to expand the book's impact.
—Publishers Weekly, starred review

♦ At the Farmers' Market, Olivia wants to find an object that will fit perfectly into her small wicker basket. Some produce is too large, some is too small, some is too long. Olivia must use her budding spatial reasoning skills to find a fruit or veggie with a just-right fit. Most sentences have a simple construction. Illustrations have a sketchy quality, but their deliberately unpolished look adds to their appeal, like an heirloom tomato in a pile of genetically modified perfect red spheres. The page that introduces the Farmers' Market shows it bustling with shoppers. Subsequent illustrations focus only on Olivia and her veggies. Olivia is a young Black girl with natural hair and a brightly eye-catching pink hooded sweatshirt. Olivia has an expression of pleasant curiosity throughout the book. Even when facing complex problems, she doesn't get frustrated. Near the end, she concentrates on a large spread of veggies, which may prompt young readers to try and guess what will fit. The corn? The potato? The squash? Spoiler alert: It's a baby pumpkin that fits snugly in the basket. Back matter gives tips on how to help children learn and grow beyond the book. VERDICT Part of the "Storytelling Math" series, this perfect little book features a Black protagonist and gentle teaching of complex spatial skills and is recommended for all pre-K collections.
—School Library Journal, starred review

♦ In board book form, Lin accomplishes that most difficult of tasks: creating engaging, accessible, age-level-appropriate, not-too-fussily illustrated stories that also teach something. In this case it's math. Each entry homes in on a specific mathematical concept, while together providing a tour through the seasons — and a slice-of-life portrait of three friends, Olivia, Mei, and Manny. In the springtime-set Knees, Mei observes measurement and comparison as she cultivates a sunflower. Circle! Sphere! proves the mind-stretching fact that the children's three different-shaped bubble wands produce the same-shaped bubble. Fit's setting is a fall farmers' market and illustrates Olivia's spatial sense (and taste in ­produce). Wintry Marshmallow touches on division, both ­mathematical (how to split three marshmallows between two girls…) and behavioral (…without ruining the friendship). The illustrations are signature Lin — think The Ugly Vegetables (rev. 9/99) and the Ling and Ting books — with bold, saturated hues; thick black outlines; judicious use of frames; eye-pleasingly tidy details; and nothing extraneous. Brief "Exploring the Math" notes and "Try This!" suggestions, addressed to adults and written by an early math expert, are appended. All together, these diminutive math storybooks add up to a whole lot of fun.
—The Horn Book, starred review