The Biggest Loser Flavors of the World Cookbook: Take your taste buds on a global tour with more than 75 easy, healthy recipes for your favorite ethnic dishes (Paperback)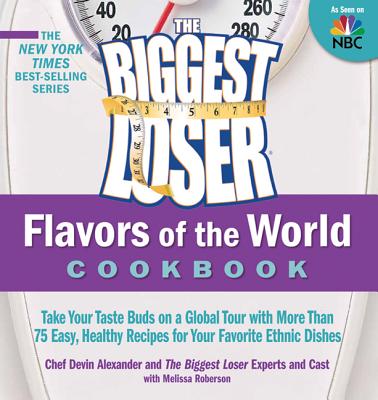 $21.99
Maybe Unavailable, Ask us
Description
---
Pizza. Huevos Rancheros. Pad Thai. Enchiladas. Some of America's most-craved foods aren't "American" in the traditional sense—they're the international foods we love to order at restaurants or have delivered to our homes. But most renditions of these beloved ethnic dishes are full of fat and calories. How can dieters get the flavor they crave, without buying one of those reduced-calorie frozen meals that are full of salt and other preservatives?

Now, with The Biggest Loser Flavors of the World Cookbook, they can have their lasagna and eat it too! With more than 75 recipes for favorite ethnic staples as well as legendary regional American cuisine created by Chef Devin Alexander and The Biggest Loser contestants, healthy eating has never been more exciting.

Readers will discover how former contestants reinvented favorite dishes from their own cultures and regions to fit into their healthy new lifestyle, and will learn how to cut the calories and fat from America's most-loved ethnic foods. And Chef Devin Alexander's reliably decadent creations save both money and calories, as any of these dishes can be made at home for a fraction of the cost of a restaurant or take-out meal.

The book will include recipes for meals, snacks, dinners, and desserts, and will cover a wide range of cuisines, from the down-home Southern classics to delicious Asian dishes, Mexican favorites, hearty Italian meals, and many others. The book will also include cooking tips from Chef Devin, weight loss advice from the contestants and trainers, and an overview of the Biggest Loser food plan.
The Biggest Loser Flavors of the World Cookbook will show readers how to expand their culinary horizons—without expanding their waistlines!
About the Author
---
New York Times bestselling author Devin Alexander has shared her secrets for unbelievably decadent-tasting foods through frequent appearances on such national TV shows as The TODAY Show, Fox & Friends, Good Morning America, and The View, and has also appeared on Discovery Health, HGTV, USA, Style Network and others. Devin's advice has also appeared in more than 100 magazine articles, including Prevention, Women's Health, Runners World, Shape, USA Today, Parade, Bon Appetite, and Health to name a few. Devin is currently the host of "Healthy Decadence with Devin Alexander" in FitTv.

She is the author of The Biggest Loser Cookbook, The Biggest Loser Family Cookbook, The Biggest Loser Dessert Cookbook, Fast Food Fix, The Most Decadent Diet Ever, and I Can't Believe It's Not Fattening.