Chick and Brain: Egg or Eyeball? (Hardcover)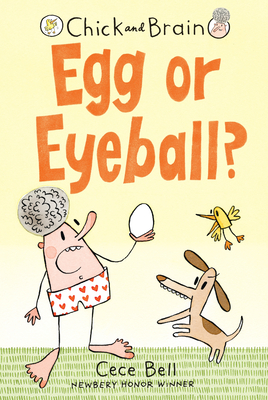 Description
---
Cece Bell follows her Geisel Honor Book, Chick and Brain: Smell My Foot, with an even wackier story for beginning readers, sure to elicit eye-rolling squeals of delight.

Oh! Oh, oh, oh! Look what Brain found. Chick and Spot say it is an egg. Brain says it is an eyeball. Is it an egg or an eyeball? The inimitable Cece Bell is back with a second hilarious primer on good manners gone awry and arguments run amok. Perfectly pitched to kids just learning to read and loaded with verbal and visual comedy, this offbeat graphic story by a master of the genre builds to an exhilaratingly absurd surprise ending.
About the Author
---
Cece Bell is the author-illustrator of the Geisel Honor Books Chick and Brain: Smell My Foot! and Rabbit and Robot: The Sleepover, as well as the Newbery Honor Book El Deafo. She is also the creator of the Sock Monkey picture books and Chuck and Woodchuck. Cece Bell learned to read with Dick and Jane, and now she hopes children will learn to read with Chick and Brain. She lives in Virginia with her family.