City Spies (Hardcover)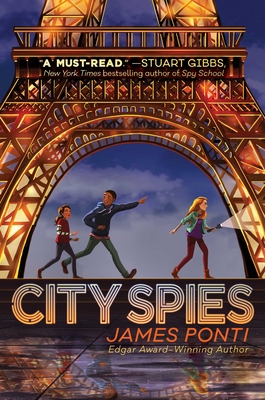 $18.99
Maybe Unavailable, Ask us
Other Books in Series
This is book number 1 in the City Spies series.
Description
---
A New York Times bestseller!
A GMA3 Summer Reading Squad Selection!
"Ingeniously plotted, and a grin-inducing delight." —People
"Will keep young readers glued to the page…So when do I get the sequel?" —Beth McMullen, author of Mrs. Smith's Spy School for Girls

In this thrilling new series that Stuart Gibbs called "a must-read," Edgar Award winner James Ponti brings together five kids from all over the world and transforms them into real-life spies—perfect for fans of Spy School and Mrs. Smith's Spy School for Girls.

Sara Martinez is a hacker. She recently broke into the New York City foster care system to expose her foster parents as cheats and lawbreakers. However, instead of being hailed as a hero, Sara finds herself facing years in a juvenile detention facility and banned from using computers for the same stretch of time. Enter Mother, a British spy who not only gets Sara released from jail but also offers her a chance to make a home for herself within a secret MI6 agency.

Operating out of a base in Scotland, the City Spies are five kids from various parts of the world. When they're not attending the local boarding school, they're honing their unique skills, such as sleight of hand, breaking and entering, observation, and explosives. All of these allow them to go places in the world of espionage where adults can't.

Before she knows what she's doing, Sara is heading to Paris for an international youth summit, hacking into a rival school's computer to prevent them from winning a million euros, dangling thirty feet off the side of a building, and trying to stop a villain…all while navigating the complex dynamics of her new team.

No one said saving the world was easy…
About the Author
---
James Ponti is the New York Times bestselling author of three middle grade book series: the all-new City Spies, about an unlikely squad of five kids from around the world who form an elite MI6 Spy Team; the Edgar Award–winning Framed! series, about a pair of tweens who solve mysteries in Washington, DC; and the Dead City trilogy, about a secret society that polices the undead living beneath Manhattan. His books have appeared on more than fifteen different state award lists, and he is the founder of a writers group known as the Renegades of Middle Grade. James is also an Emmy–nominated television writer and producer who has worked for many networks including Nickelodeon, Disney Channel, PBS, History, and Spike TV, as well as NBC Sports. He lives with his family in Orlando, Florida. Find out more at JamesPonti.com.