A No F*cks Given 2020 Day-to-Day Calendar: advice for people who hate being told what to do (Calendar)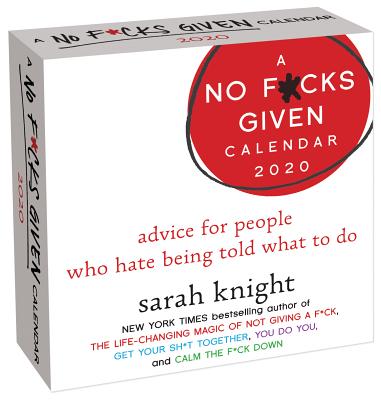 $15.99
Maybe Unavailable, Ask us
Description
---
Sarah Knight, best-selling author of the No F*cks Given Guides—The Life-Changing Magic of Not Giving A F*ck, Get Your Sh*t Together, You Do You, and Calm the F*ck Down—uses her fun, fresh, sweary style to bring you her own brand of life-changing magic for taking care of yourself.

In this A No F*cks Given 2020 Day-to-Day Calendar, Sarah—known as the "anti-guru"—offers tips for living your best life along with some interactive exercises to help you be who you are and not be sorry about it.
About the Author
---
Sarah Knight's first book, The Life-Changing Magic of Not Giving a F*ck, has been published in more than thirty languages, and her TEDx talk, "The Magic of Not Giving a F*ck," has more than seven million views. The books in her No F*cks Given Guides series have been international bestsellers, including Get Your Sh*t Together, which was on the New York Times bestseller list for sixteen weeks. Her writing has also appeared in Glamour, Harper's Bazaar, Marie Claire, Red, Refinery29, and elsewhere. After quitting her corporate job to pursue a freelance life, she moved from Brooklyn, New York, to the Dominican Republic, where she currently resides with her husband, two feral rescue cats, and a sh*tload of lizards.

You can learn more and sign up for her newsletter at nofucksgivenguides.com, follow Sarah on Twitter and Instagram @MCSnugz, and follow the books @NoFucksGivenGuides (Facebook and Instagram) and @NoFucksGiven (Twitter).