The Grapes of Wrath (MP3 CD)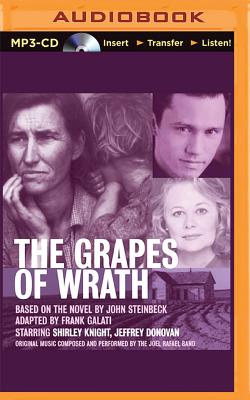 $14.99
Maybe Unavailable, Ask us
Description
---
Featured title on PBS's The Great American Read in 2018
Set during the Great Depression, The Grapes of Wrath tells the powerful story of the Joad family's trek from the dust bowl of Oklahoma to the promise of a new life in California. But what they find threatens to rip apart their lives, and sever the ties that bind them together. A heart-wrenching full-cast adaptation of the Pulitzer Prize-winning novel by John Steinbeck and a 1990 Tony Award(R) Winner for Best Play, Frank Galati's play finds its timeless heart in the generous spirit of the common man.
An L.A. Theatre Works full cast performance featuring:
Shirley Knight as Ma Joad
Jeffrey Donovan as Tom Joad
Emily Bergl as Rose of Sharon
Michael Buie as Connie/Others
Daniel Chac n as Al Joad
Maurice Chasse as Deputy Sheriff/Others
Shannon Cochran as Mrs. Wainwright/Elizabeth Sandry
Trista Delamere as 2nd Narrator/Al's Girl
Francis Guinan as Jim Casy
Charlie Matthes as Willy/Gas Station Attendant/Hooper Ranch Guard
Rod McLachlan as Uncle John
Robert Pescovitz as Pa Joad
Joel Rafael as Car Salesman/Man with Guitar
Stephen Ramsey as 1st Narrator/Others
Nicholas Sadler as Agricultural Officer/Others
Andy Taylor as Gas Station Owner/Floyd Knowles/Camp Director/Others
Todd Waring as Hooper Ranch Bookkeeper/Others
Fredd Wayne as Grampa/Mayor of Hooverville/Camp Guard
Michael Weston as Noah Joad/Others
Kate Williamson as Gramma/Others
Live music performed by the Joel Rafael Band. Adapted by Frank Galati. Directed by Richard Masur.
Recorded before a live audience.