Swan Song (MP3 CD)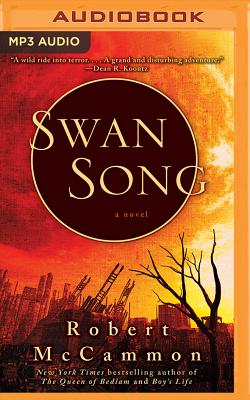 $9.99
Maybe Unavailable, Ask us
Description
---
Featured title on PBS's The Great American Read in 2018
Swan Song is Robert McCammon's prescient and "shocking" (John Saul) vision of a post-Apocalyptic nation, a grand epic of terror and, ultimately, renewal.
Facing down an unprecedented malevolent enemy, the government responds with a nuclear attack. America as it was is gone forever, and now every citizen--from the President of the United States to the homeless on the streets of New York City--will fight for survival.
In a wasteland born of rage and fear, populated by monstrous creatures and marauding armies, earth's last survivors have been drawn into the final battle between good and evil, that will decide the fate of humanity: Sister, who discovers a strange and transformative glass artifact in the destroyed Manhattan streets...Joshua Hutchins, the pro wrestler who takes refuge from the nuclear fallout at a Nebraska gas station...And Swan, a young girl possessing special powers, who travels alongside Josh to a Missouri town where healing and recovery can begin with Swan's gifts. But the ancient force behind earth's devastation is scouring the walking wounded for recruits for its relentless army, beginning with Swan herself....
"Compelling.... A long, satisfying look at hell and salvation." --Publishers Weekly
"No one can paint word pictures as vividly as Robert McCammon." --Sandra Brown