Self-Care for New Moms: Thriving Through Your Postpartum Year (Paperback)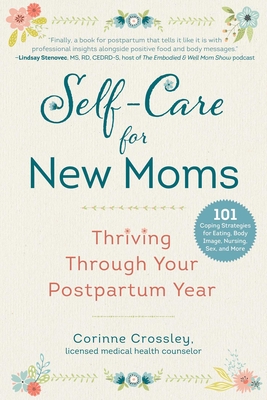 $16.99
Maybe Unavailable, Ask us
Description
---
Explore postpartum self-care strategies for eating, body image, emotions, nursing and milk production, sex, and so much more!
The role of motherhood is one where women are continuously asked to focus on the needs of everyone else but themselves. This is a significant issue in the arena of self-care, where we often ignore our own hunger, energy levels, and emotions in the pursuit of taking care of others.
Written from the perspectives of both therapist and busy mom,
Self-Care for New Moms
features several eye-opening exercises, interviews from a village of experts (who also happen to be moms), and helpful interventions to help you get through the chronic depletion common to the postpartum year.  
Self-care strategies include:
Exercise and yoga
Pelvic floor recovery work
Psychotherapy
Self-compassion techniques
Complementary and alternative methods (massage, chiropractic, or acupuncture)
Simple recipes
Methods for reconnecting with your partner
And so much more 
The practical exercises and comforting techniques in this book will help you manage one of motherhood's biggest challenges: self-care.
About the Author
---
Corinne Crossley, LMHC has been in private practice for nine years treating women and men struggling with eating disorders, mood disorders, and anxiety disorders, and has a special interest in employing yoga and mindfulness techniques as adjunctive treatment in the recovery process. She is the primary writer of parenting blog Mindful Eating Moms and co-host of the Momma Bites! podcast. Corinne lives in Southeastern Massachusetts with her husband and two children, ages five and eight.
Praise For…
---
"Finally, a book for postpartum that tells it like it is with professional insights alongside positive food and body messages. The western world has been waiting for this resource." —Lindsay Stenovec, MS, RD, CEDRD-S, host of The Embodied & Well Mom Show podcast