Berserk Deluxe Volume 13 (Hardcover)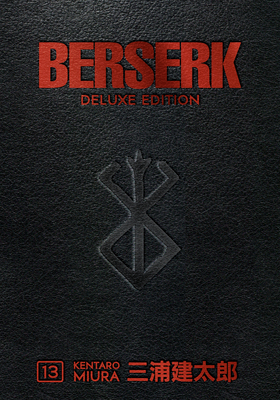 Description
---
The Game of Thrones of adult fantasy/horror manga roars toward the finish line, collecting Berserk volumes 37–39 in the original oversized serialization format and with updated translations and three fold-out color posters.

Guts the Black Swordsman and company reach the island of Skellig in hopes than Elven magic can heal the afflicted mind of Casca, but first they must face the island's terrifying magical defenses. If they can pass through and reach Elfhelm, the Flower Storm Monarch of the Elves can perform the ritual that might free Casca. But failure will mean their long, perilous journey will have been for nothing!

Collects Berserk Volume 37, 38, and 39.
About the Author
---
While attending college at Nihon University, in 1988, Kentaro Miura debuted a 48-page manga known as Berserk Prototype, an introduction to the current Berserk fantasy world. It went on to win Miura a prize from the Comi Manga School. In 1989, after receiving a doctorate degree, Kentarou started a project titled King of Wolves based on a script by Buronson, writer of Hokuto no Ken (Fist Of The North Star).

In 1990, the first volume Berserk was released with a relatively limited success. Miura again collaborated with Buronson on manga entitled Japan. Miura's fame grew after Berserk began "The Golden Age" story arc and the huge success of this masterpiece made of him one of the most prominent contemporary manga artists.

In 1997, Miura supervised the production of 25 anime episodes of Berserk that aired in the same year on NTV.

The series has also spawned a whole host of merchandise, both official and fan made, ranging from statues and action figures, to key rings, video games, and a trading card game. In 2002, Kentaro Miura received the second place in the Tezuka Osamu (Astro Boy) Cultural Prize of Excellence for Berserk.
Praise For…
---
"Berserk stands high and above the rest."—CBR
 
"Berserk is finally given the treatment fans have longed for."—Adventures In Poor Taste
 
"The series more than lives up to its title."—Comics Buyer's Guide
 
"The best manga ever."—Toyfare