Beach House for Rent (The Beach House) (Hardcover)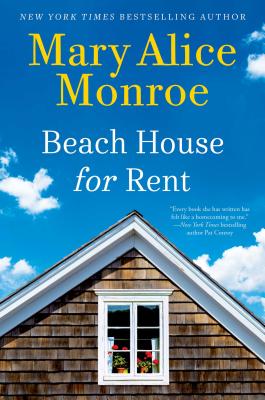 $26.00
Maybe Unavailable, Ask us
Other Books in Series
This is book number 4 in the The Beach House series.
Description
---
New York Times Bestseller!

Bestselling author Mary Alice Monroe returns to her beloved Isle of Palms to tell the poignant, charming story of two women, one summer, and one very special beach house.

When Cara Rutledge rents out her quaint beach house on Isle of Palms to Heather Wyatt for the entire summer, it's a win-win by any standard: Cara's generating income necessary to keep husband Brett's ecotourism boat business afloat, and anxiety-prone Heather, an young artist who's been given a commission to paint birds on postage stamps, has a quiet space in which to work and tend to her pet canaries uninterrupted.

It isn't long, however, before both women's idyllic summers are altered irrevocably: the alluring shorebirds—and the man who rescues them—begin to draw Heather out of the shell she's cultivated toward a world of adventure, and maybe even love; at the same time, Cara's life reels with sudden tragedy, and she wishes only to return to the beach house that had once been her port amidst life's storms. When Heather refuses to budge from her newfound sanctuary, so begins the unlikeliest of rooming situations. While they start out as strangers, as everything around the women falls apart they learn that the only thing they can really rely on is each other.

And, like the migrating shorebirds that come to the island for the summer, these two women of different generations must rediscover their unique strengths so by summer's end they, too, can take flight in ways they never imagined possible.
About the Author
---
Mary Alice Monroe is the New York Times bestselling author of twenty-seven books, including the bestselling The Beach House series. Monroe also writes children's picture books, and a middle grade fiction series called The Islanders. She is a member of the South Carolina Academy of Authors' Hall of Fame, and her books have received numerous awards, including the South Carolina Center for the Book Award for Writing; the South Carolina Award for Literary Excellence; the SW Florida Author of Distinction Award; the RT Lifetime Achievement Award; the International Book Award for Green Fiction; the Henry Bergh Children's Book Award; and her novel, A Lowcountry Christmas, won the prestigious Southern Prize for Fiction. The Beach House is a Hallmark Hall of Fame movie, starring Andie MacDowell. Several of her novels have been optioned for film. She is the cocreator and cohost of the weekly web show and podcast Friends & Fiction. Monroe is also an active conservationist and serves on several boards. She lives on the South Carolina coast, which is a source of inspiration for many of her books.
Praise For…
---
"Reading this novel feels like a long, luxurious trip to the beach. Mary Alice Monroe writes gorgeously, with authority and tenderness, about the natural world and its power to inspire, transport, and to heal. Readers will love this story of two unforgettable women–one reeling from an unexpected tragedy, the other drawn into a daring and passionate new love."
— --#1 New York Times bestselling author Susan Wiggs

"Mary Alice Monroe understands that a house is never just a house. As we revisit The Beach House we are immersed in the heartbeat and pulse of her South Carolina Lowcountry as never before. Monroe's singular ability to blend the natural world with the emotional world allows for a gorgeous novel, wondrously both bittersweet and also life-affirming. The story reveals its secrets with shorebirds and human hearts at the center of its graceful axis. No one else tells an insightful and powerful story quite like Mary Alice Monroe—and in BEACH HOUSE FOR RENT, you won't be able to stop reading--for even that glass of sweet tea."
— --New York Times bestselling author Patti Callahan Henry

"Monroe continues her series featuring women who return to Primrose for comfort, healing, and strength. However, the books can stand alone…[Readers] will delight in this latest novel featuring women who need the healing power of nature."
— Library Journal, starred review

"Monroe's newest installation in her Beach House series also serves as stand-alone novel, but faithful readers will recognize her ability to blend uniquely human stories with pressing environmental issues. Fans of Mary Kay Andrews and Mary Simses will adore this novel of simple pleasures, shifting priorities, and the power of self-discovery. Tender and inspiring with a touch of romance, it's just the thing to fill an empty beach bag."
— Booklist

"Her hallmark knack for plumbing the inner depths of her characters and connecting them with one another in ways that feel perfectly organic – all the while weaving in those environmental issues near and dear to her heart – is a winning formula that's made Monroe one of the most beloved authors in the nation and a well-known champion of conservation causes."
— SCNow

"…a charming and poignant story ideal for Summer reading."
— Pop Sugar

"…a skilled storyteller who never lets her readers down…she makes Isle of Palms come enticingly alive, calling all readers to this garden of paradise which is just ripe for a visit. Mary Alice Monroe creates characters that you wish/hope could be real people so that they could become your friends. And you feel if you could visit the Lowcountry they would be there waiting."
— Huffington Post

"Beach House for Rent is choice property."
— Star News