Paper Cuts: An Enchanting Cozy Mystery (A Secret, Book, and Scone Society Novel #6) (Hardcover)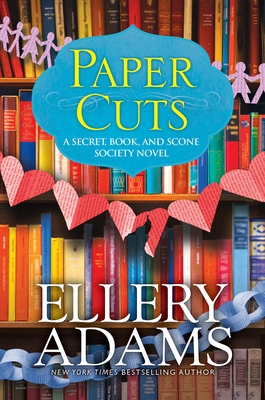 Other Books in Series
This is book number 6 in the A Secret, Book, and Scone Society Novel series.
Description
---
The New York Times bestselling author returns with a mystery with a touch of magical realism and a strong, female bookstore owner and bibliotherapist at its heart.

Miracle Springs, North Carolina, is famed for its healing springs. But bookstore owner Nora Pennington has a tendency to land in a different kind of hot water. Though she loves to practice bibliotherapy by finding the perfect books for her customers while listening to their secrets, she also likes to bury her nose in the occasional local crime…

Nora escaped her past a decade ago. So it feels like a visit from another world when Kelly Walsh—the woman her ex-husband left her for—walks through the door of Miracle Books along with her son, a sweet, serious boy with a talent for origami. Kelly hasn't come to gloat, though. As it turns out, she's been dumped too. She's also terribly ill, and all she wants from Nora is forgiveness.

Shockingly, however, this woman who's been the victim of so much misfortune is about to become a murder victim. Who would do such a thing? Certainly not Nora, but that doesn't stop the gossip and suspicion—especially after Kelly's brother claims that he saw the two women arguing.

In seeking justice for Kelly, The Secret, Book, and Scone Society joins forces with the sheriff's department, but they've barely begun their probe when life throws another wrench. After serving a twenty-year sentence, Estella's father returns to Miracle Springs. And when his past comes back to haunt him, it might be more than the four friends can handle.

"Red herrings abound along with plenty of tips on choosing books." —Kirkus Reviews
About the Author
---
Ellery Adams has written over forty mystery novels and can't imagine spending a day away from the keyboard. Ms. Adams, a native New Yorker, has had a lifelong love affair with stories, food, rescue animals, and large bodies of water. When not working on her next novel, she reads, bakes, gardens, spoils her three cats, and rearranges her bookshelves. She lives with her husband and two children (aka the Trolls) in Chapel Hill, NC. For reading guides and a list of bibliotherapy titles, please visit ElleryAdamsMysteries.com.
Praise For…
---
Praise for Paper Cuts

"A bookstore owner is framed for murder…Red herrings abound along with plenty of tips on choosing books." —Kirkus Reviews


Praise for The Secret, Book & Scone Society series by New York Times bestselling author Ellery Adams

"A love letter to reading, with sharp characterizations and a smart central mystery." —Entertainment Weekly on The Whispered Word

"Adams launches an intriguing new mystery series, headed by four spirited amateur sleuths and touched with a hint of magical realism, which celebrates the power of books and women's friendships. Adams' many fans, readers of Sarah Addison Allen, and anyone who loves novels that revolve around books will savor this tasty treat." —Library Journal, STARRED REVIEW, Pick of the Month on The Secret, Book, & Scone Society

"Ink and Shadows is a big hug of a book for bookstore lovers who have been pining to visit their favorite emporiums for the past year." —Criminal Element on Ink & Shadows
 
"Ellery Adams's cozy mystery novel The Vanishing Type is a testament to women's friendship—with sides of murder,
romance, coffee, and baked goods." —Foreword Reviews on The Vanishing Type
 
"The winding path to the truth showcases both the strengths and the weaknesses of the loving sisterhood." —Kirkus Reviews on The Vanishing Type

"An appetizing dish for mystery lovers who enjoy books about bookstores, small towns, and female friends." —Booklist on The Book of Candlelight

"Adams kicks off a new series featuring strong women, a touch of romance and mysticism, and both the cunning present-day mystery and the slowly revealed secrets of the intriguing heroines' pasts." —Kirkus Reviews on The Secret, Book, & Scone Society

"This affecting series launch from Adams provides all the best elements of a traditional Mystery...Well-drawn characters complement a plot with an intriguing twist or two." —Publishers Weekly on The Secret, Book, & Scone Society

"A perfect read...four women whose divergent lives intermingle due to their shared passion for books, good food, and ultimately, friendship, become unwittingly embroiled in a murder investigation. The deep, dark secrets each of them carries provide the suspense in this admixture of cozy small-town life and perplexing mystery with the right amount of pathos to garner the reader's sympathy." —The Cape Cod Chronicle on The Secret, Book, & Scone Society

"Lovers of reading and strong women will be impressed by this entertaining cozy packed with mystery, romance, and sisterhood." —Kirkus Reviews
 
"Readers will cheer as Nora, an endearingly imperfect protagonist, and her group of dedicated literary friends, each with their own complicated backstories, search for answers. Bibliophilic cozy fans will be in heaven." —Publishers Weekly on The Vanishing Type
 
"The full cozy treatment…Adams provides the red herrings, the foreshadowing, and the clues we need to pick out the murderer, and yet she turns some sharp corners that cause us to question their decisions." —New York Journal of Books on The Vanishing Type