The Vanishing Type: A Charming Bookish Cozy Mystery (A Secret, Book and Scone Society Novel #5) (Paperback)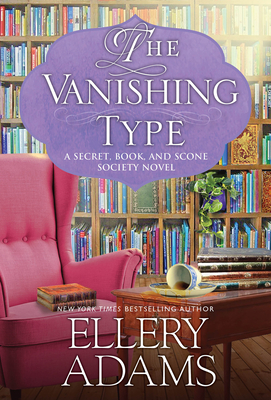 Other Books in Series
This is book number 5 in the A Secret, Book and Scone Society Novel series.
Description
---
Entertainment Weekly hails the Secret, Book, and Scone Society series by New York Times bestselling author Ellery Adams as "a love letter to reading," and in this fifth installment, bookshop owner, bibliotherapist, and occasional sleuth Nora Pennington must enlist the help of her brilliant, brassy librarian friend Bobbie to unravel the connection between The Scarlet Letter, an obscure 19th century writer, and a dead hiker…

Bookstore owner Nora Pennington and the rest of the Secret, Book, and Scone Society must solve a murder as cold as the winter wind in a new mystery from New York Times bestselling author Ellery Adams.

While January snow falls outside in Miracle Springs, North Carolina, Nora Pennington is encouraging customers to cozy up indoors with a good book. Even though the shop and her bibliotherapy sessions keep Nora busy during the day, her nights are a little too quiet—until Deputy Andrews pulls Nora into the sci-fi section and asks her to help him plan a wedding proposal.

His bride-to-be, Hester, loves Little Women, and Nora sets to work arranging a special screening at the town's new movie theater. But right before the deputy pops the question, Nora makes an unsettling discovery—someone has mutilated all her store's copies of The Scarlet Letter, slicing angrily into the pages wherever Hester Prynne's name is mentioned.

The coincidence disturbs Nora, who's one of the few in Miracle Springs who knows that Hester gave up a baby for adoption many years ago. When a dead man is found on a hiking trail just outside town, carrying a rare book, the members of the Secret, Book, and Scone Society unearth a connection to Hester's past. Someone is intent on bringing the past to light, and it's not just Hester's relationship at stake, but her life . . .

"Captivating . . . Bibliophilic cozy fans will be in heaven." –Publishers Weekly
About the Author
---
Ellery Adams has written over forty mystery novels and can't imagine spending a day away from the keyboard. Ms. Adams, a native New Yorker, has had a lifelong love affair with stories, food, rescue animals, and large bodies of water. When not working on her next novel, she reads, bakes, gardens, spoils her three cats, and rearranges her bookshelves. She lives with her husband and two children (aka the Trolls) in Chapel Hill, NC. For reading guides and a list of bibliotherapy titles, please visit ElleryAdamsMysteries.com.
Praise For…
---
Praise for The Secret, Book & Scone Society series by New York Times bestselling author Ellery Adams

"Readers will cheer as Nora, an endearingly imperfect protagonist, and her group of dedicated literary friends, each with their own complicated backstories, search for answers. Bibliophilic cozy fans will be in heaven." —Publishers Weekly on The Vanishing Type

"Ellery Adams's cozy mystery novel The Vanishing Type is a testament to women's friendship—with sides of murder, romance, coffee, and baked goods." —Foreword Reviews

"A well-presented cozy mystery that any lover of the genre will enjoy reading." —New York Journal of Books on The Vanishing Type
 
"A love letter to reading, with sharp characterizations and a smart central mystery." —Entertainment Weekly on The Whispered Word

"Adams launches an intriguing new mystery series, headed by four spirited amateur sleuths and touched with a hint of magical realism, which celebrates the power of books and women's friendships. Adams' many fans, readers of Sarah Addison Allen, and anyone who loves novels that revolve around books will savor this tasty treat." —Library Journal, STARRED REVIEW, Pick of the Month on The Secret, Book, & Scone Society

"Ink and Shadows is a big hug of a book for bookstore lovers who have been pining to visit their favorite emporiums for the past year." —Criminal Element on Ink & Shadows

"An appetizing dish for mystery lovers who enjoy books about bookstores, small towns, and female friends." —Booklist on The Book of Candlelight

"Adams kicks off a new series featuring strong women, a touch of romance and mysticism, and both the cunning present-day mystery and the slowly revealed secrets of the intriguing heroines' pasts." —Kirkus Reviews on The Secret, Book, & Scone Society

"This affecting series launch from Adams provides all the best elements of a traditional Mystery...Well-drawn characters complement a plot with an intriguing twist or two." —Publishers Weekly on The Secret, Book, & Scone Society

"A perfect read...four women whose divergent lives intermingle due to their shared passion for books, good food, and ultimately, friendship, become unwittingly embroiled in a murder investigation. The deep, dark secrets each of them carries provide the suspense in this admixture of cozy small-town life and perplexing mystery with the right amount of pathos to garner the reader's sympathy." —The Cape Cod Chronicle on The Secret, Book, & Scone Society

"Lovers of reading and strong women will be impressed by this entertaining cozy packed with mystery, romance, and sisterhood." —Kirkus Reviews