Ink and Shadows: A Witty & Page-Turning Southern Cozy Mystery (A Secret, Book and Scone Society Novel #4) (Paperback)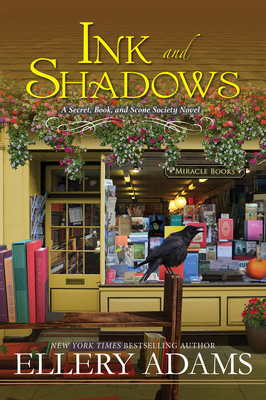 Other Books in Series
This is book number 4 in the A Secret, Book and Scone Society Novel series.
Description
---
Controversy erupts in Miracle Springs, North Carolina, when the owner of the local bookstore tries to play peacekeeper—but winds up playing detective instead...

Known for her window displays, Nora Pennington decides to showcase fictional heroines like Roald Dahl's Matilda and Madeline Miller's Circe for Halloween. But a family-values group disapproves of the magical themes and wastes no time launching a modern-day witch hunt. Suddenly, former friends and customers are targeting not only Nora and Miracle Books, but a new shopkeeper, Celeste, who's been selling CBD oil products.

Nora and her friends in the Secret, Book, and Scone Society are doing their best to put an end to the strife—but then someone puts an end to a life. Declared an accident, the ruling can't explain the old book page covered with strange symbols and disturbing drawings left under Nora's doormat. It's up to Nora and the Secret, Book, and Scone Society to sort out the clues before more bodies turn up and the secrets from Celeste's past come back to haunt them all...
About the Author
---
Ellery Adams has written over forty mystery novels and can't imagine spending a day away from the keyboard. Ms. Adams, a native New Yorker, has had a lifelong love affair with stories, food, rescue animals, and large bodies of water. When not working on her next novel, she reads, bakes, gardens, spoils her three cats, and rearranges her bookshelves. She lives with her husband and two children (aka the Trolls) in Chapel Hill, NC. For reading guides and a list of bibliotherapy titles, please visit ElleryAdamsMysteries.com.