The Book of Candlelight (A Secret, Book and Scone Society Novel #3) (Paperback)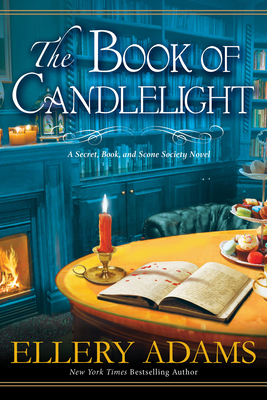 Other Books in Series
This is book number 3 in the A Secret, Book and Scone Society Novel series.
Description
---
From New York Times bestselling author Ellery Adams, the third installment in her beguiling cozy mystery series featuring librarian-turned-bookseller Nora Pennington who has a penchant for bibliotherapy and solving crimes. While people visit Miracle Springs for healing treatments, it's Nora who helps them find peace by prescribing the perfect book along with a fresh-baked scone. After all, sometimes the key to happiness, friendship--or solving a murder--can simply be found within the pages of the right book. It's been a very wet spring in Miracle Springs, North Carolina, and the rain has been relentless--and a flood of trouble is about to be unleashed...

As the owner of Miracle Books, Nora Pennington figures all the wet weather this spring is at least good for business. The local inns are packed with stranded travelers, and among them Nora finds both new customers and a new friend, the sixty-something Sheldon, who starts helping out at the store.

Since a little rain never hurt anyone, Nora rides her bike over to the flea market one sodden day and buys a bowl from Danny, a Cherokee potter. It'll make a great present for Nora's EMT boyfriend. But the next day, a little rain turns into a lot of rain, and the Miracle River overflows its banks. Amid the wreckage of a collapsed footbridge, a body lies within the churning water.

Nora and the sheriff both doubt the ruling of accidental drowning, and Nora decides it's time for the Secret, Book, and Scone Society to spring into action. When another body turns up, it becomes clearer that Danny's death can't be blamed on a natural disaster. A crucial clue may lie within the stone walls of the Inn of Mist and Roses: a diary, over a century old and spattered with candle wax, that leads Nora and her friends through a maze of intrigue--and onto the trail of a murderer...
About the Author
---
Ellery Adams has written dozens of mystery novels and can't imagine spending a day away from the keyboard. Ms. Adams, a native New Yorker, has had a lifelong love affair with stories, food, rescue animals, and large bodies of water. When not working on her next novel, she reads, bakes, gardens, spoils her three cats, and rearranges her bookshelves. She lives with her husband and two children (aka the Trolls) in Chapel Hill, NC. For more information and a list of bibliotherapy titles, please visit www.elleryadamsmysteries.com.
Praise For…
---
Praise for The Book of Candlelight

"Delightful…Adams has a knack for creating endearingly imperfect characters. Cozy fans will be well satisfied."
—Publishers Weekly
 
"The third book in the Secret, Book, and Scone Society series serves up an appetizing dish for mystery lovers who enjoy books about bookstores, small towns, and female friends."
—Booklist

Praise for Ellery Adams' previous mysteries

The Whispered Word

"A love letter to reading, with sharp characterizations and a smart central mystery."
—Entertainment Weekly

The Secret, Book & Scone Society
 
"Adams launches an intriguing new mystery series, headed by four spirited amateur sleuths and touched with a hint of magical realism, which celebrates the power of books and women's friendships. Adams's many fans, readers of Sarah Addison Allen, and anyone who loves novels that revolve around books will savor this tasty treat."
—Library Journal (starred review), Pick of the Month
 
 "Adams kicks off a new series featuring strong women, a touch of romance and mysticism, and both the cunning present-day mystery and the slowly revealed secrets of the intriguing heroines' pasts." 
—Kirkus Reviews 
 
"This affecting series launch from Adams provides all the best elements of a traditional mystery. . . . Well-drawn characters complement a plot with an intriguing twist or two." 
—Publishers Weekly 
 
"Adams' new series blends magical realism, smart women, and small-town quirks to create a cozy mystery that doubles as a love letter to books. Readers will fall in love with Nora's bookstore therapy and Hester's comfort scones. Not to mention Estella, June, hunky Jed the paramedic, and Nora's tiny house-slash-converted-train-caboose . . . a book that mystery fans—and avid readers—won't want to put down until they have savored every last crumb."
—RT Book Reviews

"A perfect read...four women whose divergent lives intermingle due to their shared passion for books, good food, and, ultimately, friendship, become unwittingly embroiled in a murder investigation. The deep, dark secrets each of them carries provide the suspense in this admixture of cozy small-town life and perplexing mystery with the right amount of pathos to garner the reader's sympathy."
—The Cape Cod Chronicle