Fullmetal Alchemist (3-in-1 Edition), Vol. 3: Includes vols. 7, 8 & 9 (Paperback)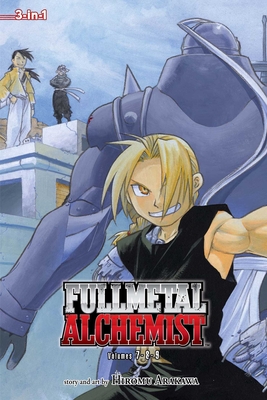 $14.99

In Warehouse, Usually Ships to Store in 1-5 Days
Description
---
Bargain omnibus editions of one of the best-selling manga series of all time!

In an alchemical ritual gone wrong, Edward Elric lost his arm and his leg, and his brother Alphonse became nothing but a soul in a suit of armor. Equipped with mechanical ""auto-mail"" limbs, Edward becomes a state alchemist, seeking the one thing that can restore his and his brother's bodies...the legendary Philosopher's Stone.

Where did Alphonse Elric go during the few short minutes he was wiped from existence, body and soul? From a secret lair in the city of Dublith, a group of outcasts kidnaps Alphonse to find the alchemical secrets of his creation! It's up to Ed (and a certain housewife) to go into the Devil's Nest and rescue his brother. But the criminals of the Devil's Nest aren't exactly human either. Now, Al must fight a homunculus--an artificial human being--and the streets of Dublith will run red with blood...
About the Author
---
Born in Hokkaido, Japan, Hiromu Arakawa first attracted attention in 1999 with her award-winning manga Stray Dog. Her series Fullmetal Alchemist was serialized from 2001 to 2010 with a story that spanned 27 volumes and became an international critical and commercial success, receiving both the Shogakukan Manga Award and Seiun Award and selling over 70 million copies worldwide. Fullmetal Alchemist has been adapted into anime twice, first as Fullmetal Alchemist in 2003 and again as Fullmetal Alchemist: Brotherhood in 2009. The series has also inspired numerous films, video games and novels.