Driving with the Devil: Southern Moonshine, Detroit Wheels, and the Birth of NASCAR (Paperback)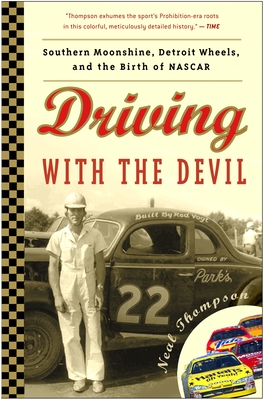 $18.00
Maybe Unavailable, Ask us
Description
---
The true story behind NASCAR's hardscrabble, moonshine-fueled origins, "fascinating and fast-moving . . . even if you don't know a master cylinder from a head gasket" (Atlanta Journal-Constitution).

"[Neal] Thompson exhumes the sport's Prohibition-era roots in this colorful, meticulously detailed history."—Time

Today's NASCAR—equal parts Disney, Vegas, and Barnum & Bailey—is a multibillion-dollar conglomeration with 80 million fans, half of them women, that grows bigger and more mainstream by the day. Long before the sport's rampant commercialism lurks a distant history of dark secrets that have been carefully hidden from view—until now. 
 
In the Depression-wracked South, with few options beyond the factory or farm, a Ford V-8 became the ticket to a better life. Bootlegging offered speed, adventure, and wads of cash. Driving with the Devil reveals how the skills needed to outrun federal agents with a load of corn liquor transferred perfectly to the red-dirt racetracks of Dixie. In this dynamic era (the 1930s and '40s), three men with a passion for Ford V-8s—convicted felon Raymond Parks, foul-mouthed mechanic Red Vogt, and war veteran Red Byron, NASCAR's first champ—emerged as the first stock car "team." Theirs is the violent, poignant story of how moonshine and fast cars merged to create a sport for the South to call its own. 
 
In the tradition of Laura Hillenbrand's Seabiscuit, this tale captures a bygone era of a beloved sport and the character of the country at a moment in time.
About the Author
---
Neal Thompson is a veteran journalist who has worked for the Baltimore Sun, Philadelphia Inquirer, and St. Petersburg Times, and whose magazine stories have appeared in Outside, Esquire, Backpacker, and Men's Health. He teaches at the University of North Carolina-Asheville's Great Smokies Writing Program and is author of Light This Candle: The Life & Times of Alan Shepard, America's First Spaceman. Thompson, his wife, and their two sons live in the mountains outside Asheville, North Carolina.
Praise For…
---
"Thompson exhumes the sport's Prohibition-era roots in this colorful, meticulously detailed history."
-Time Magazine

"Here's the real story, not just of NASCAR, but of the new South that emerged from moonshine and speed."
—Richard Ben Cramer, author of Joe DiMaggio: The Hero's Life and editor of The Best American Sports Writing 2004

"Neal Thompson has written NASCAR's Glory of Their Times. He tells the true story of NASCAR's beginnings, revealing the sport's strong whiskey roots and letting us get to know its key movers and shakers, including the triumvirate of racer Red Byron, mechanic Red Vogt, and bootlegger car owner Raymond Parks. Like Seabiscuit, Thompson makes a sport and an era come wonderfully alive."
—Peter Golenbock, author of Miracle: Bobby Allison and the Saga of the Alabama Gang and American Zoom: Stock Car Racing—From Dirt Tracks to Daytona

"Driving with the Devil is a full-tilt excursion through the back roads of NASCAR's past, when moonshiners and scofflaws pioneered the sport. This is a tale that sanitized corporate NASCAR would rather forget about, but with Neal Thompson at the wheel, it makes for wonderful reading."
—Sharyn McCrumb, author of St. Dale

"Driving with the Devil is a treasure trove of historically relevant information that tracks the history of the American automobile industry, the culture and morality of the broader society, and the motivations and personalities of early stock-car-racing operatives. All of which have inexorably contributed to the foundation and fabric of NASCAR's brand of stock-car racing as it manifests itself today."
—Jack Roush, chairman of Roush Racing

"Driving with the Devil is a most impressive piece of work. Most Americans have the vague notion that big-time stock-car racing sprang from moonshine-hauling in the southern Appalachians prior to the Second World War, but here is documented proof that it was that and much more. Neal Thompson's Driving with the Devil nails it once and for all: a riveting report any student of Americana will cherish. It's no more about racing than The Old Man and the Sea is about fishing."
—Paul Hemphill, author of Lovesick Blues: The Life of Hank Williams and Wheels: A Season on NASCAR's Winston Cup Circuit

"A fascinating and fast-moving account of NASCAR's fledgling days."
–Atlanta Journal Constitution

"There are more divorces, drunks and wrecks than you can shake a checkered flag at...A thoroughly researched account of a 'simpler time' in a sport that has since become a multi-billion dollar business."
–NBC News anchor Brian Williams, in the Wall Street Journal