Last Gate of the Emperor (Hardcover)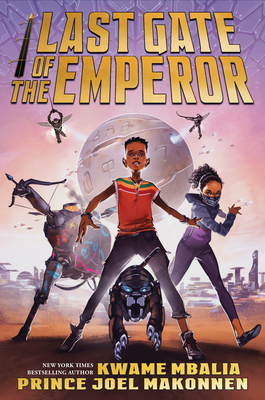 $17.99

In Warehouse, Usually Ships to Store in 1-5 Days
Description
---
From Kwame Mbalia and Prince Joel David Makonnen comes an Afrofuturist adventure about a mythical Ethiopian empire. Sci-fi and fantasy combine in this epic journey to the stars.
Yared Heywat lives an isolated life in Addis Prime -- a hardscrabble city with rundown tech, lots of rules, and not much to do. His worrywart Uncle Moti and bionic lioness Besa are his only family... and his only friends.
Often in trouble for his thrill-seeking antics and smart mouth, those same qualities make Yared a star player of the underground augmented reality game, The Hunt for Kaleb's Obelisk. But when a change in the game rules prompts Yared to log in with his real name, it triggers an attack that rocks the city. In the chaos, Uncle Moti disappears.
Suddenly, all the stories Yared's uncle told him as a young boy are coming to life, of kingdoms in the sky and city-razing monsters. And somehow Yared is at the center of them.
Together with Besa and the Ibis -- a game rival turned reluctant ally -- Yared must search for his uncle... and answers to his place in a forgotten, galaxy-spanning war.
Praise For…
---
"Inspired by the history and lore of Ethiopia, this cinematic space adventure introduces 12-year-old Yared Heywat as he fights to protect those he loves after learning stunning secrets about his world and himself … In this fast-paced, Afrofuturist homage to Ethiopia, Mbalia and Ethiopian prince Makonnen craft an enthralling tale of resilience, family, and bravery that will entertain young sci-fi lovers."
– Publisher's Weekly, starred review
"Action-packed technothriller … Readers will delight in Yared's puckish demeanor and perspective, his loyal bionic lioness, Besa, and the events that ensue as all of Yared's childhood stories come to life in a terrifying way, from dangerous monsters to mysterious floating realms. In this vivid, volatile Afrofuturist sf world, as Yared journeys to learn about himself and his spiraling environment, he must figure out who to trust and how he is connected to all of the chaos."
– Booklist
"An epic sci-fi adventure"
– The Nerd Daily