The Grimkes: The Legacy of Slavery in an American Family (Hardcover)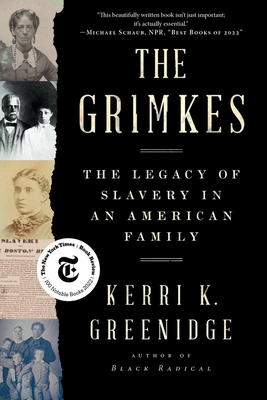 $32.50

In Warehouse, Usually Ships to Store in 1-5 Days
Description
---
Finalist • National Book Critics Circle Award [Biography]

New York Times Book Review • 100 Notable Books of 2022

Winner of the American Historical Association's Joan Kelly Memorial Prize

Shortlisted for the Phi Beta Kappa Society's Ralph Waldo Emerson Award

Publishers Weekly • 10 Best Books of 2022

Best Books of 2022: NPR, Oprah Daily, Smithsonian, Boston Globe, Chicago Public Library



A stunning counternarrative of the legendary abolitionist Grimke sisters that finally reclaims the forgotten Black members of their family.
Sarah and Angelina Grimke—the Grimke sisters—are revered figures in American history, famous for rejecting their privileged lives on a plantation in South Carolina to become firebrand activists in the North. Their antislavery pamphlets, among the most influential of the antebellum era, are still read today. Yet retellings of their epic story have long obscured their Black relatives. In
The Grimkes
, award-winning historian Kerri Greenidge presents a parallel narrative, indeed a long-overdue corrective, shifting the focus from the white abolitionist sisters to the Black Grimkes and deepening our understanding of the long struggle for racial and gender equality.
That the Grimke sisters had Black relatives in the first place was a consequence of slavery's most horrific reality. Sarah and Angelina's older brother, Henry, was notoriously violent and sadistic, and one of the women he owned, Nancy Weston, bore him three sons: Archibald, Francis, and John. While Greenidge follows the brothers' trials and exploits in the North, where Archibald and Francis became prominent members of the post–Civil War Black elite, her narrative centers on the Black women of the family, from Weston to Francis's wife, the brilliant intellectual and reformer Charlotte Forten, to Archibald's daughter, Angelina Weld Grimke, who channeled the family's past into pathbreaking modernist literature during the Harlem Renaissance.
In a grand saga that spans the eighteenth century to the twentieth and stretches from Charleston to Philadelphia, Boston, and beyond, Greenidge reclaims the Black Grimkes as complex, often conflicted individuals shadowed by their origins. Most strikingly, she indicts the white Grimke sisters for their racial paternalism. They could envision the end of slavery, but they could not imagine Black equality: when their Black nephews did not adhere to the image of the kneeling and eternally grateful slave, they were cruel and relentlessly judgmental—an emblem of the limits of progressive white racial politics.
A landmark biography of the most important multiracial American family of the nineteenth century,
The Grimkes
suggests that just as the Hemingses and Jeffersons personified the racial myths of the founding generation, the Grimkes embodied the legacy—both traumatic and generative—of those myths, which reverberate to this day.
About the Author
---
Kerri K. Greenidge is Mellon Associate Professor at Tufts University. Her previous book, Black Radical: The Life and Times of William Monroe Trotter, won the 2020 Mark Lynton History Prize, among other awards. She lives in Westborough, Massachusetts.
Praise For…
---
[A] revelatory investigation . . . Like Annette Gordon-Reed's Pulitzer-winning The Hemingses of Monticello, Greenidge illuminates the dynamic of racial subordination within a slaveholding family . . . brilliant.

— Elizabeth Taylor, National Book Critics Circle

An ambitious book, not only because of its large cast of characters, but because it offers so many insights about racial strife in the United States . . . Greenidge provides a consummate cartography of racial trauma, demonstrating through an adept use of the family's letters, diaries and other archival materials, how the physical and emotional abuses of slavery traveled through generations long after abolition . . . There is plenty of little-known American history in The Grimkes . . . An intimate and provocative account of a family's intergenerational struggle to remake itself. [Greenidge] takes the Grimke sisters off their pedestal so that we understand them as pieces of a tapestry that could only be sewn in America. Pain, guilt and yearning lie at the seams, holding the family together and tearing it apart.

— Michael P. Jeffries, New York Times Book Review, cover review

Sisters Sarah and Angelina Grimke were two of America's most well-known abolitionists, inspired to speak out against slavery by their Quaker faith. But the story of their family goes even deeper – their brother was a cruel sadist who fathered three children with an enslaved woman. Historian Kerri K. Greenidge digs deep into the history of the family, both its white and Black members, and the result is a fascinating examination of the legacy of slavery in America. This beautifully written book isn't just important; it's actually essential.
— Michael Schaub, NPR, Best Books of 2022

[T]he historical record offers occasional glimpses into the tortured dynamics of families 'Black and white.' Annette Gordon-Reed's acclaimed work on Jefferson ranks as one of the most notable of these explorations. But the history of another southern lineage, which Kerri K. Greenidge examines in her new book, The Grimkes: The Legacy of Slavery in an American Family, is perhaps even more revealing of the way human bondage shaped and deformed families, as well as the lives of those within them. . . . [Greenidge] highlights the crucial role of Black women in the abolitionist struggle . . . In recent years, considerable attention has been directed by scholars of history and literature to the question of slavery's 'afterlife,' to the assessment of its impact long after its legal demise. Greenidge embraces this perspective as she connects the injustices of the present with their roots. She finds their origins embedded not just in the strictures of society and law, but in the human psychology formed in the families that racism has so profoundly shaped. Our nation's racial trauma lives on.

— Drew Gilpin Faust - The Atlantic

[A]n ambitious cross-generational biography that provides a scintillating panorama of slavery, protest, and race relations in nineteenth- century America . . . an illuminating account of the rift between women's rights and advocacy for African Americans . . . The Grimkes is a sobering reminder that progress on race relations has been a tortuous journey, with spurts forward, reversals, and restarts. Prejudice was not unidirectional. It swept in crosscurrents and created many conflicts. The American story is not just the oft-told one of white versus Black. It's also a story about African Americans excluding other African Americans, about social reformers pitted against one another, about marginalized people struggling to advance and sometimes succeeding while leaving others behind.

— David S. Reynolds - New York Review of Books

An eminent African American historian skewers one of our most entrenched white-savior myths: the Grimké sisters of South Carolina, whose pioneering work on abolition masked deep familial hypocrisies. An adroit storyteller, Greenidge mines archives in her exposé of Sarah and Angelina Grimké, the erasure of their Black relatives, and the subtle yet resilient relations cobbled together in the shadows of slavery . . . a disquieting tale, inconvenient truths that strike at the shibboleths of race, gender, and power.
— Oprah Daily, "Best Books of 2022"

A perfect gift for "Finding Your Roots" fans. Following the Civil War, sisters Sarah and Angelina Grimke — prominent abolitionists raised in South Carolina — learned that they had three mixed-race nephews whose mother had been enslaved. The relationship became well known, glossing over tensions and traumas that come to the fore in Greenidge's rich, illuminating narrative. The Tufts professor uses one family's history to tell a gripping American story that spans cities — including Boston — and centuries, ending with an unforgettable figure of the Harlem Renaissance.
— Marie Morris, Boston Globe, Best Books of 2022

[A] brilliant new book . . . Greenidge is an especially elegant writer, and an admirably clear one, expertly guiding readers through a century of history and a dauntingly complicated cast of characters. She manages to sketch them all with great sympathy and at the same time utterly clear and unsparing judgment. This book will, I think, make some readers uncomfortable. It's worth it. The Grimkes is by turns heartbreaking, entertaining, and thought-provoking: a triumph.
— Kate Tuttle - Boston Globe

Gripping . . . Greenidge digs deeply into the family's archives to reveal their complex and often severe treatment of their nephews.
— Barbara Spindel - Christian Science Monitor

Remarkable . . . Excavating voluminous archives of slave records, correspondence, articles from the Black and mainstream presses, and speeches, Greenidge, a Tufts University professor, delves into the complexity of the Grimke family with a fresh and illuminating perspective . . . Greenidge notes that while white reformers might have disavowed 'their complicity in America's racial project […] Black descendants rarely enjoyed the privilege of ignoring history.' Thanks to her tenacious scholarship, a much clearer picture of that history is unearthed and put into focus.
— Elaine Elinson - Los Angeles Review of Books

Tufts University historian Greenidge (Black Radical) delivers a revelatory study of the Grimke family and their complicated involvement in the fight for racial equality. Quaker sisters Sarah and Angelina Grimke, suffering from spiritual guilt over slavery—yet willing to receive financial support from their slaveholding relatives—relocated from Charleston, S.C., to Philadelphia in the 1820s and became influential abolitionists and women's rights activists who emphasized the detrimental effects of the "peculiar institution" on white women's souls. After the Civil War, they learned that their brother Henry had fathered three sons by an enslaved woman, and Greenidge incisively details how the sisters' relationships with their nephews, Archibald, Francis, and John Grimke, got tangled up in assumptions of white privilege and assertions of Black freedom.... Greenidge offers no tidy or optimistic conclusions about the long shadow of slavery, but readers will be riveted by how she brings these complex figures and their era to life. This is a brilliant and essential history.

— Publishers Weekly, starred review

Award-winning historian Greenidge offers an absorbing investigation of two branches of the notable Grimke family: sisters Sarah and Angelina Grimke, who became famous for their views on abolition and women's suffrage; and the descendants of their brother Henry Grimke, a "notoriously violent and sadistic" slave owner who fathered three sons with a Black woman he owned.... Greenidge reveals the significant roles of Black women in the family's complicated history: the sons' mother, wives, and in-laws; and, notably, Archie [Grimke]'s daughter, poet and playwright Angelina Weld Grimke. The author's discoveries reveal both "white reformers' disavowal of their complicity in America's racial project" and "the limits of interracial alliances." A sweeping, insightful, richly detailed family and American history.
— Kirkus Reviews, starred review

As historian Greenidge makes abundantly clear, the Grimkes remained mired in racism and classism, and their dedication to eradicating slavery had more to do with gratifying their own Christian views than with actually helping Black people...A sobering and timely look at how self-centered 'benevolence' can become complicity.
— Booklist, starred review