With a Little Luck (Hardcover)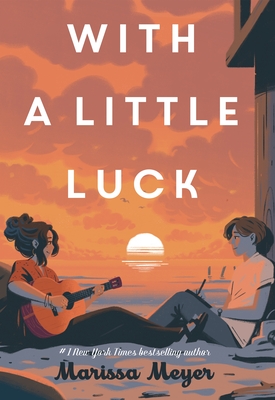 $20.99

Coming Soon - Available for Pre-Order Now
Description
---
After being magically gifted with incredible luck, a boy discovers this gift just may be a curse when it comes to love, in this sweet romantic comedy by #1 New York Times-bestselling author Marissa Meyer.

Jude is determined to fly under the radar. He just wants to draw comics, host D&D night with his friends, work at his parents' vinyl record store, and escape high school as unscathed as possible. That is, until the night he finds himself inexplicably gifted with a bout of supernatural good luck.

Suddenly, everything Jude has ever wanted is within reach. His art is being published. He helps his friend's song become a finalist in a songwriting competition. And he wins a pair of coveted concert tickets, which he can use to ask out the popular girl he's been crushing on since elementary school.

But how long can Jude's good fortune last? And why does he find himself thinking about Ari, his best friend since forever? If Jude has been dreaming of the wrong girl this whole time, does that mean he's doomed to be unlucky in love forever?

With a sprinkle of magic, this sweet beachside romance is perfect for fans of To All the Boys I've Loved Before and Love & Gelato, as well as anyone who has ever swooned over Marissa Meyer's beloved characters.
About the Author
---
Marissa Meyer is the #1 New York Times–bestselling author of the Renegades Trilogy, The Lunar Chronicles series, the Wires and Nerve graphic novels, and The Lunar Chronicles Coloring Book. Her first standalone novel, Heartless, was also a #1 New York Times bestseller. Marissa created and hosts a podcast called The Happy Writer. She lives in Tacoma, Washington, with her husband and their two daughters.

Chuck Gonzales is a Brooklyn-based illustrator who works internationally in publishing, animation, editorial, packaging, and advertising projects. He has illustrated many books for children, and created works for animated projects for Nickelodeon and ESPN.
Praise For…
---
"Fortune favors the nerd in this heartwarming novel by bestselling novelist Meyer. ...Wonderful, witty, and as sweet as spun sugar."--Kirkus Reviews

"[A] breezy and fun romantic comedy ... Jude's self-aware narration entreats to readers like a trusted confidante, and the chemistry between Jude and Ari is so palpable, it's a wonder it took them so long to realize it."--Publishers Weekly