Independent Bones: A Sarah Booth Delaney Mystery (Hardcover)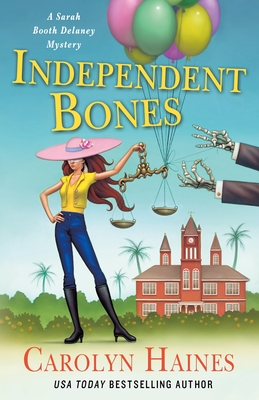 $26.99
Maybe Unavailable, Ask us
Other Books in Series
This is book number 23 in the A Sarah Booth Delaney Mystery series.
Description
---
Carolyn Haines's Independent Bones is the next novel in the series that Kirkus Reviews characterizes as "Stephanie Plum meets the Ya-Ya Sisterhood" featuring sassy Southern private investigator Sarah Booth Delaney.

When Dr. Alala Diakos, a visiting professor of Greek literature, comes to teach at Ole Miss in Oxford, Mississippi, it doesn't take long for controversy to follow. With her fervent feminist ideals and revolutionary leanings, she quickly earns the admiration of many—and the ire of others. During a speech in the park, in which Alala tries to organize the women of Zinnia to demand equal pay, the crowd gets unruly, with men heckling the professor. And when PI Sarah Booth Delaney finds a sniper rifle and scope in the bushes, she begins to worry that there are more than fighting words at stake.

Sarah Booth calls her boyfriend, Sheriff Coleman Peters, who offers the protection of the Zinnia police department, but Alala rejects him, saying she has no use for the law or men. And when a notorious domestic abuser is found dead the next day, suspicions turn to Alala herself, who was overheard bragging that she would take him down. Tensions deepen when connections are drawn between Alala and two similar, previous deaths.

But Sarah Booth doesn't want to believe Alala is a murderer, and when the professor shows up at Sarah Booth's doorstep, asking her to find the real criminal, Sarah Booth embarks on a case stretching across the Delta. Yet Alala remains at the center of it all, and Sarah Booth can't help but wonder if the killer has been with her all along...
About the Author
---
Carolyn Haines is the USA Today bestselling author of the Sarah Booth Delaney mystery series and a number of other books in mystery and crime, including the Pluto's Snitch paranormal-historical mystery series, and Trouble, the black cat detective romantic suspense books. She is the recipient of the Harper Lee Award for Distinguished Writing, the Richard Wright Award for Literary Excellence, and the Mississippi Writers Guild Lifetime Achievement Award. She is a former journalist, bartender, photographer, farmhand, and college professor and lives on a farm where she works with rescue cats, dogs, and horses.
Praise For…
---
"Danger and adventure ensue." —Woman's World

"[With] room for humor as dogs and cats assist with the investigation. Fans of the series will enjoy the depth of the story, along with the characters' personal development." —Library Journal on Independent Bones

"Cozy fans attuned to the #MeToo movement may want to check this one out." —Publishers Weekly on Independent Bones

"Haines shows Sarah at her madcap best back in her hometown in this clever adventure. This is a crazy cozy with a little something for everyone: paranormal doings, plenty of Evanovich zaniness, and a cast of eccentrics."
—Booklist on Bone to Be Wild

"Enjoyable…Jitty, the headstrong ghost who shares Sarah Booth's family home, is just one of the many well-drawn characters who help bring this Southern tale to colorful life." —Publishers Weekly on Rock-a-Bye Bones

"Distinctive characters and an atmospheric setting elevate this paranormal cozy. Series fans and newcomers alike will be satisfied." —Publishers Weekly on Game of Bones

"A dark mystery, effectively framed by its well-drawn Mississippi Delta setting." —Booklist on Game of Bones

"A sure pleaser in both the mystery and the romance department. If you like a satisfying cozy Southern whodunit, Charmed Bones fits the bill." —RT Book Reviews