Anna K Away (Hardcover)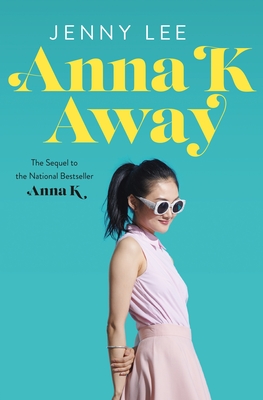 $18.99
Coming Soon - Available for Pre-Order Now
Other Books in Series
This is book number 2 in the Anna K series.
Description
---
The sequel to the national indie bestseller Anna K, set over the course of the next summer, as the characters deal with the fallout from Vronsky's tragic death and Anna's sex tape scandal.

How the mighty have fallen. Anna K, once the golden girl of Greenwich, CT, and New York City, has been brought low by a scandalous sex tape and the tragic death of her first love, Alexia Vronsky. At the beginning of the summer, her father takes her to the other side of the world, to connect with his family in South Korea and teach his daughter about her roots. Is Anna in exile? Or could this be her chance to finally figure out who she really is?

Back in the U.S., Anna's brother, Stephen, and his girlfriend, Lolly, are falling even more deeply in love. But when Lolly learns about unexpected consequences from Stephen's cheating the previous year, she has to consider how much she is willing to forgive. Lolly's little sister, Kimmie, and her new boyfriend, Dustin, are thinking about having sex together for the first time. And Bea, Vronsky's cousin, is having her own romantic and sexual awakening, though she hasn't forgiven her ex-BFF, Anna, for her role in Vronsky's death.

Set over the course of a single, life-changing summer, Jenny Lee's Anna K Away is full of the risk, joy, heartbreak, and adventure that marks the three months between the end of one school year and the beginning of the next.
About the Author
---
Jenny Lee is a television writer and producer who has worked on BET's Boomerang, IFC's Brockmire, Freeform's Young & Hungry, and the Disney Channel's number-one-rated kids' show, Shake It Up. Jenny has previously published humor essay collections and middle-grade novels, and Anna K. is her debut YA novel. She lives in Los Angeles with her husband and 135-pound Newfoundland, Gemma (and yes, it's a toss-up on who's walking who every day).
Praise For…
---
Praise for Anna K

National bestseller
Marie Claire Book Club selection
Book of the Month Club selection
A SkimmReads Pick
Amazon Best Book of the Month
In development as a TV series with HBO Max

"This innovative retelling illustrates the push and pull of first love." —Time

"Lee's version of Anna Karenina, tweaked and updated for today's teens, makes for addictive reading." —BookPage, starred review

"A slow-burn epic tale of love in modern-day Manhattan high society." —Kirkus Reviews

"One of my favorite reads this year." —Amazon Book Review

"A fresh and wickedly smart take on a classic story. Anna is even more scandalously fun now, in the age of stilettos and social media, than she was in 19th century Russia. I couldn't put this one down!" —Katharine McGee, author of American Royals

"A little bit Crazy Rich Asians and a little bit Gossip Girl, Anna K is a smart, crafty, and utterly engrossing story about love, addiction, mental health, and what it truly means to be a teenager." —Isabella Ogbolumani, Page 1 Books, Evanston, IL

"Tolstoy meets Gossip Girl? Xoxo to that! A clever romp that is both delicious, scandalous, prep school drama and sly commentary on wealth, relationships, upper crust society and more, Anna K is loads of fun as Jenny Lee spins Anna Karenina (and that infamous train scene) into a contemporary drama that had me madly and delightedly turning pages." —Joy Preble, Brazos Bookstore, Houston, TX

"Imagine Gossip Girl and Anna Karenina collided and in that split second, their collision formed a high-drama, superbly compelling story. Anna and company are mesmerizing and will keep your eyes glued to the pages until the very end." —Rachel Strolle, Glenside Public Library District, Glenside Heights, IL

"It's difficult to imagine a lofty tome like Anna Karenina turned into a teen drama extravaganza, but Lee manages it with aplomb, giving heart and heat to Anna K." —Sami Thomason, Square Books, Oxford, MS