Anna K: A Love Story (Hardcover)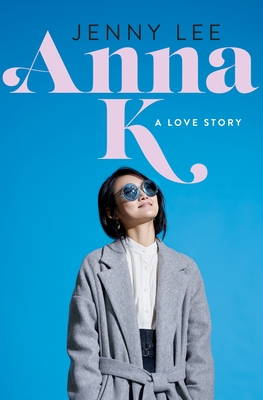 Other Books in Series
This is book number 1 in the Anna K series.
Staff Reviews
---
"Every happy teenage girl is the same, while every unhappy teenage girl is miserable in her own special way."
ANNA K is the book I didn't know I needed until I heard it was happening. ANNA KARENINA is one of my favorite books, and all the things I loved about it in high school can be found in this updated retelling without the treatise on landowning. Essentially this is the most intellectual season of Gossip Girl you can imagine. I knew from hearing her speak that Lee had captured the heart of the story but I did not expect the ways in which she subverted the narrative. Giving the main characters a Korean heritage kept the pressure of tradition and family that Anna is pushing against while still making the story feel fresh and new. I thought I knew how things would end up, but I was still surprised at the choices made. If you like the feel of classic literature but want something a bit more current, read this. Tolstoy wrote for the every man and Lee is writing for every teenage girl. Also, there are dogs.
— Faith
Description
---
A national indie bestseller! Meet Anna K: every happy teenage girl is the same, while every unhappy teenage girl is miserable in her own special way...

At seventeen, Anna K is at the top of Manhattan and Greenwich society (even if she prefers the company of her horses and dogs); she has the perfect (if perfectly boring) boyfriend, Alexander W.; and she has always made her Korean-American father proud (even if he can be a little controlling). Meanwhile, Anna's brother, Steven, and his girlfriend, Lolly, are trying to weather an sexting scandal; Lolly's little sister, Kimmie, is struggling to recalibrate to normal life after an injury derails her ice dancing career; and Steven's best friend, Dustin, is madly (and one-sidedly) in love with Kimmie.

As her friends struggle with the pitfalls of ordinary teenage life, Anna always seems to be able to sail gracefully above it all. That is…until the night she meets Alexia "Count" Vronsky at Grand Central. A notorious playboy who has bounced around boarding schools and who lives for his own pleasure, Alexia is everything Anna is not. But he has never been in love until he meets Anna, and maybe she hasn't, either. As Alexia and Anna are pulled irresistibly together, she has to decide how much of her life she is willing to let go for the chance to be with him. And when a shocking revelation threatens to shatter their relationship, she is forced to question if she has ever known herself at all.

Dazzlingly opulent and emotionally riveting, Anna K: A Love Story is a brilliant reimagining of Leo Tolstoy's timeless love story, Anna Karenina—but above all, it is a novel about the dizzying, glorious, heart-stopping experience of first love and first heartbreak.
About the Author
---
Jenny Lee is a television writer and producer who has worked on BET's Boomerang, IFC's Brockmire, Freeform's Young & Hungry, and the Disney Channel's number-one-rated kids' show, Shake It Up. Jenny has previously published humor essay collections and middle-grade novels, and Anna K. is her debut YA novel. She lives in Los Angeles with her husband and 135-pound Newfoundland, Gemma (and yes, it's a toss-up on who's walking who every day).
Praise For…
---
Named a must-read book of 2020 by Good Morning America, Entertainment Weekly, Glamour, HelloGiggles, BuzzFeed, PopSugar, Bustle, BookPage, and more!

National indie bestseller
A Vanity Fair Best Book of the Year So Far
Marie Claire Book Club selection
Book of the Month Club selection
A SkimmReads Pick
In development as a TV series with HBO Max

"A timeless tale of how much we're willing to sacrifice for love." —Teen Vogue

"A modern take on Leo Tolstoy's Anna Karenina, Anna K is a Gossip Girl meets Big Little Lies tale of wealth, privilege, love, and loss with lots of designer labels." —GoodMorningAmerica.com

"Something no one tells you about postcollege reading is the fact that you have to relearn how to read for fun—Anna K is the ideal book for the job. The novel scratches the same itch binge-watching comfort TV does and stands as a good reminder that an 'important' read can be just a fun one." —Vanity Fair

"This innovative retelling illustrates the push and pull of first love." —Time

"Lee's version of Anna Karenina, tweaked and updated for today's teens, makes for addictive reading." —BookPage, starred review

"You'll be hard-pressed to find a YA that captures the Gossip Girl vibe as well as this debut, and you know B would approve of the fact that it takes its inspiration from classic literature!" —BuzzFeed

"A fresh and wickedly smart take on a classic story. Anna is even more scandalously fun now, in the age of stilettos and social media, than she was in 19th century Russia. I couldn't put this one down!" —Katharine McGee, author of American Royals

"A slow-burn epic tale of love in modern-day Manhattan high society." —Kirkus Reviews