Network Effect: A Murderbot Novel (The Murderbot Diaries #5) (Hardcover)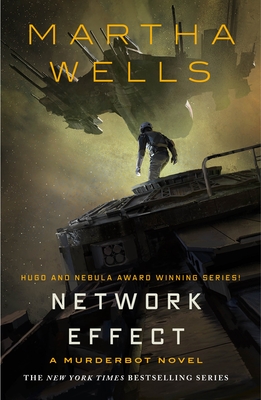 $26.99
Coming Soon - Available for Pre-Order Now
Other Books in Series
This is book number 5 in the The Murderbot Diaries series.
Staff Reviews
---
"I said, 'If I thought he was going to hurt you, I'd be disposing of his body. I don't fuck around, either."
Murderbot fans rejoice! Your favorite Sec Unit is back and snarkier than ever. This time it is under a contract of its own choosing and is primarily monitoring the offspring of Dr Mensa, Amena, who is none too pleased with the situation. Things go sideways fast, narrative timelines are dueling, and it all comes to a head in a way that I sincerely hope means future novels. My only complaint is that I wish things were explained earlier, but my confusion was worth it in the end. 
So instead I'll just say that I want to sit close enough to touch (but not actually touch because, ew, gross) while we watch Rise and Fall of Sanctuary Moon and discuss how absurd these squishy humans can be.
Content Warnings for general Sci-Fi peril, mild body horror, and colonial BS
— Faith
Description
---
Martha Wells' New York Times and USA Today bestselling Murderbot series exploded onto the scene in 2017, and the world has not been the same, since.

Murderbot returns in its highly-anticipated, first, full-length standalone novel, Network Effect.
You know that feeling when you're at work, and you've had enough of people, and then the boss walks in with yet another job that needs to be done right this second or the world will end, but all you want to do is go home and binge your favorite shows? And you're a sentient murder machine programmed for destruction? Congratulations, you're Murderbot.
Come for the pew-pew space battles, stay for the most relatable A.I. you'll read this century.

—
I'm usually alone in my head, and that's where 90 plus percent of my problems are.
When Murderbot's human associates (not friends, never friends) are captured and another not-friend from its past requires urgent assistance, Murderbot must choose between inertia and drastic action.
Drastic action it is, then.
About the Author
---
MARTHA WELLS has written many fantasy novels, including The Wizard Hunters, Wheel of the Infinite, the Books of the Raksura series (beginning with The Cloud Roads and ending with The Harbors of the Sun), and the Nebula-nominated The Death of the Necromancer, as well as YA fantasy novels, short stories, and non-fiction.
Praise For…
---
"Anyone who enjoys humor-infused space operas won't want to miss this."—Publishers Weekly Starred Review
"Everyone's favorite Murderbot is now working as a security consultant for Preservation Station... [Network Effect] is a welcome expansion of this universe and lays the groundwork for more stories to come in a series
that continues to grow and impress." —Booklist starred review
Praise for The Murderbot Diaries

"The Murderbot series is a heart-pounding thriller that never lets up, but it's also one of the most humane portraits of a nonhuman I've ever read. Come for the gunfights on other planets, but stay for the finely drawn portrait of a deadly robot whose smartass goodness will give you hope for the future of humanity." —Annalee Newitz
"I love Murderbot!"—Ann Leckie
"We are all a little bit Murderbot."—NPR
"Wells gives depth to a rousing but basically familiar action plot by turning it into the vehicle by which SecUnit engages with its own rigorously denied humanity." —Publishers Weekly starred review
"I already can't wait for the next one." —The Verge
"Meet your favorite depressed A.I. since Marvin." —B&N Sci-Fi and Fantasy Blog
"A great kick-off for a continuing series." —Locus