The Sin in the Steel (The Fall of the Gods #1) (Paperback)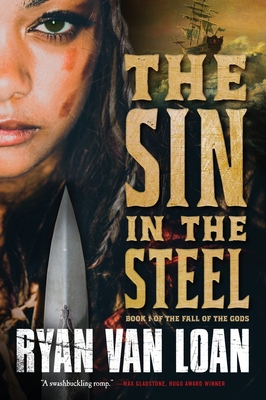 Description
---
Pirates roam the seas…mages speak to each other across oceans…some gods are dead and some are merely sleeping…amazing mechanical devices change the tide of battle…and earthly wealth is concentrated in the hands of a powerful few.

Buc is determined to change all of that. The Sin in the Steel begins her quest for justice.

"If Scott Lynch wrote Pirates of the Caribbean, it'd be a lot like The Sin in the Steel."— Tor.com

"Van Loan's swashbuckling Watson and Holmes fantasy debut is like a wild ride on a pirate ship."—K.B. Wagers, author of Behind the Throne

HEROES FOR HIRE
They Don't Come Cheap

Buc: A brilliant former street-rat, not even 18 years old, with a mind that leaps from clues to conclusions in the blink of an eye.

Eld: Despite his relative youth, a military veteran with a hidden past and Buc's partner-in-crime.

No.

In crime-solving.

It's been weeks since ships last returned to the magnificent island nation of Servenza with bounty from the Shattered Coast, putting the whole Empire at risk of economic collapse. Hired to investigate, Buc and Eld discover that the trade routes have become the domain of a sharp-eyed pirate queen who sinks all who defy her.

To fix things, all they have to do is sink the Widowmaker's ship.

Unfortunately for Buc, the gods have other plans.

Unfortunately for the gods, so does Buc.
About the Author
---
RYAN VAN LOAN (he/him) served six years in the US Army Infantry, on the front lines of Afghanistan. He now works in healthcare innovation. The Sin in the Steel is his debut novel. Van Loan and his wife live in Pennsylvania.
Praise For…
---
"Ryan Van Loan's The Sin in the Steel is a multilayered attack on tired adventure tropes. Two mercenaries, wrongly accused, are forced to investigate a crime, one that transforms them and their world forever. A blisteringly paced, amazingly fun and thoughtful read!"
—Fran Wilde, Nebula Award-winning author

"Van Loan's swashbuckling Watson and Holmes fantasy debut The Sin in the Steel is like a wild ride on a pirate ship. He's created a vivid and amazing world that readers are going to love from page one."—K.B. Wagers, author of Behind the Throne

"Ryan Van Loan delivers a swashbuckling romp, demons, pirates, dead gods, (30-50?) feral hogs, a war-weary Watson and a guttersnipe Holmes. I can't wait to see what's next."--Max Gladstone, author of Empress of Forever

"La Mancha and Sancho Panza. Thelma and Louise. Romy and Michele. Like the best buddy pictures, Ryan Van Loan's debut, The Sin in the Steel, finds all its heart in the space shared by its two wildly divergent protagonists, Buc and Eld. [This] is a blazingly fast book, with a pace that literally never lets up, but Van Loan, with all the skill of a worldbuilder with a dozen books under their belt, sprinkles many little secrets and surprises about his world throughout the action.
"In the spirit of A New Hope, Buc and Eld conclude a story, but stand on a precipice of a much larger narrative that promises to blow the scope of The Sin in the Steel out of the water. If Scott Lynch wrote Pirates of the Caribbean, it'd be a lot like The Sin in the Steel."—Tor.com

"The Sin in the Steel is a fun romp that plays with familiar genre elements while injections of originality spice up that familiar dish. Ryan Van Loan has crafted a very impressive debut novel and launched a fantasy series that has me eager to read the next installment. Recommended."—SFFWorld

"Sharpen your poignards and buckle your swashes for some foul-mouthed, high seas, sacrilegious anarchy with your favorite teenage smartass and her soul-searching, shell-shocked best pal. Ryan Van Loan has created a world thick with intrigue in his debut novel and I get a sense that the best is yet to come."—Fantasy Book Review

"If you ever wanted to read a youthful genderflipped Sherlock Holmes character in a fantasy verse, The Sin in the Steel is definitely for you. The feeling of the novel is in line with the Flintlock fantasy era in the vein of Django Wexler or Brian McClellan but with a much more economics and political focus."—Nerds of a Feather

"Starts with a bang and never slows down, rollicking through naval battles, sudden betrayals, and plenty of dark magic. This fast-paced high-seas adventure will satisfy genre fans looking for swashbuckling fun."—Kirkus Reviews

"A surprising duo, 16-year-old genius Buc and discharged soldier Eld support themselves and each other, even as they try to overcome their pasts. Interwoven are Buc's and Eld's backstories, which offer a full view of these flawed and witty protagonists, each with a strong emotional story arc. An intriguing fantasy, mixing plenty of mystery and magic to create a smart, fast-paced ride across the seas."—Library Journal, starred review

"[The] frantic pace and continuous action capture the reader, but behind its frenzy lurks a truly fascinating world. The mysteries are carefully crafted to capture the imagination, and the hectic unravelling of schemes and unearthing of secrets are well worth the effort needed to keep pace."—BookPage

"The main character, Buc, is absolutely amazing. Not afraid to say what is on her mind, she is snarky and brash and has so many great one-liners. She is clever and witty and has an intriguing backstory, too, which not only adds depth to her character and guides her decisions, but also has a larger effect on the overall narrative, as well. Eld creates much-needed balance in a story that Buc threatens to spin out of control at times. The relationship between and Buc and Eld is one of the best aspects of the book.
"The Sin in the Steel is a fun book with great characters and a whole lot of adventure. It gets my recommendation for fans of fantasy, and for those looking for their next great maritime read, this is it."—FanFi Addict