The Bard's Blade (The Sorcerer's Song #1) (Paperback)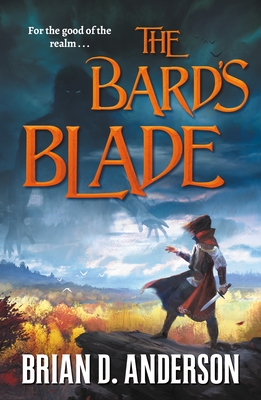 $19.99

In Warehouse, Usually Ships to Store in 1-5 Days
Description
---
The Bard's Blade is the start of the new Sorcerer's Song fantasy adventure series from Brian D. Anderson, bestselling author of The Godling Chronicles and Dragonvein.

Mariyah enjoys a simple life in Vylari, a land magically sealed off from the outside world, where fear and hatred are all but unknown. There she's a renowned wine maker and her betrothed, Lem, is a musician of rare talent. Their destiny has never been in question. Whatever life brings, they will face it together.

Then a stranger crosses the wards into Vylari for the first time in centuries, bringing a dark prophecy that forces Lem and Mariyah down separate paths. How far will they have to go to stop a rising darkness and save their home? And how much of themselves will they have to give up along the way?
About the Author
---
BRIAN D. ANDERSON is the indie-bestselling fantasy author of The Godling Chronicles, Dragonvein, and Akiri (with co-author Steven Savile) series. His books have sold more than 500,000 copies worldwide and his audiobooks are perennially popular. After a fifteen year long career in music, he rediscovered his boyhood love of writing. It was soon apparent that this was what he should have been pursuing all along. Currently, he lives in the sleepy southern town of Fairhope, Alabama with his wife and son, who inspire him daily.
Praise For…
---
"Magic, music, assassinations, and betrayal . . . a successful mix of some of the finest elements of James Islington's The Shadow of What Was Lost, Patrick Rothfuss's The Name of the Wind, and Anderson's own Behind the Vale . . . everything fans of epic fantasy will be looking for on their next big adventure. Highly recommended."—Grimdark Magazine

"One of the best books I've read this year . . . a true page-turner that delivers on all fronts."—BookNest

"Damn entertaining and engrossing . . . The alluring song that Anderson orchestrated with his words enchanted me, and I absolutely loved every second of reading The Bard's Blade."—Novel Notions

"Filled with twists and turns, likable characters, and rich worldbuilding. Natural pacing provides an equal mix of colorful descriptions, character development, and exciting action scenes."—Library Journal

"Ambitious, enjoyable . . . surprising twists [and] plenty to be explored in further installments."—Publishers Weekly

"Fantasy tale with magic, music, and a looming evil starts a new series that fans of Patrick Rothfuss' The Name of the Wind will enjoy."—Booklist

"Magical and mesmerizing. . . . The Bard's Blade delivers modern fantasy at its finest. While it has definite vibes of classical, chosen-one fantasy, Brian D. Anderson has suffused the tale with his own fresh take on this well-loved staple, successfully composing an enthralling first entry in The Sorcerer's Song series. The second book is named A Chorus of Fire, and it has emphatically claimed its place as one of my most anticipated reads of 2020."—Fantasy Book Review

"The Bard's Blade was great. The story begins simply enough—a sleepy village, a dark threat from the world beyond—and then grows into something compelling and complex . . . [I'm] looking forward to seeing where these once-innocent protagonists go from here." —Nicholas Eames, author of Kings of the Wyld