The Project: A Novel (Hardcover)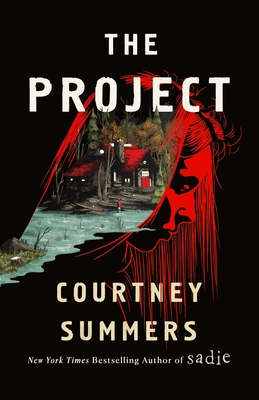 $18.99
Coming Soon - Available for Pre-Order Now
Staff Reviews
---
Signed copies available with preorder (while supplies last)
— From
Pre-order New Books!
Description
---
"[A] deeply disconcerting investigative thriller that seems unassuming but worms under the skin and into the mind." - Booklist (Starred Review)

"A powerful, suspenseful, and heartbreaking thriller about identity, sisterhood, and belonging." - Kirkus (Starred Review)

"A gripping, flawless psychological thriller ready to leave readers shattered." - School Library Journal (Starred Review)

"In this compelling and absorbing YA novel, two sisters make the most painful of choices based on their love for one another." - Shelf Awareness

"This is a beautifully-written, compelling book about the lengths to which someone will go in order not to lose their sense of belonging. It's full of twists and turns, keeping its readers guessing until the very end. The characterisation is masterfully done and so empathetic that the reader will find it almost impossible not to sympathise with the characters even if they are seemingly going down the wrong path. It's a tour de force, unflinchingly posing uncomfortable questions and forcing its readers to dig deep into themselves in order to find the answers." - The Nerd Daily

From Courtney Summers, the New York Times bestselling author of the 2019 Edgar Award Winner and breakout hit, Sadie, comes a sensational follow-up—another pulls-no-punches thriller about an aspiring young journalist determined to save her sister from a cult.

"The Unity Project saved my life."

Lo Denham is used to being on her own. After her parents died, Lo's sister, Bea, joined The Unity Project, leaving Lo in the care of their great aunt. Thanks to its extensive charitable work and community outreach, The Unity Project has won the hearts and minds of most in the Upstate New York region, but Lo knows there's more to the group than meets the eye. She's spent the last six years of her life trying—and failing—to prove it.

"The Unity Project murdered my son."

When a man shows up at the magazine Lo works for claiming The Unity Project killed his son, Lo sees the perfect opportunity to expose the group and reunite with Bea once and for all. When her investigation puts her in the direct path of its charismatic and mysterious leader, Lev Warren, he proposes a deal: if she can prove the worst of her suspicions about The Unity Project, she may expose them. If she can't, she must finally leave them alone.

But as Lo delves deeper into The Project, the lives of its members, and spends more time with Lev, it upends everything she thought she knew about her sister, herself, cults, and the world around her—to the point she can no longer tell what's real or true. Lo never thought she could afford to believe in Lev Warren . . . but now she doesn't know if she can afford not to.

Welcome to The Unity Project.

"This book is brave and raw and exciting and wise--wise about girls and women, weakness and strength, and the bittersweet beauty of being human."--Melissa Albert, New York Times bestselling author of The Hazel Wood Series
About the Author
---
Courtney Summers is the bestselling and critically acclaimed author of several novels for young adults, including Cracked Up to Be, All the Rage and Sadie. Her work has been released to multiple starred reviews, received numerous awards and honors--including the Edgar Award, John Spray Mystery Award, Cybils Award and Odyssey Award--and has been recognized by many library, 'Best Of' and Readers' Choice lists. She lives and writes in Canada.
Praise For…
---
"[A] deeply disconcerting investigative thriller that seems unassuming but worms under the skin and into the mind...Winding questions of faith and sacrifice into an already fibrous plot, Summers presents a rich offering that lingers even as it shocks." - Booklist (Starred Review)

"The beauty of the story lies in its focus on the downtrodden, the vulnerable, and the earnest, expressed with an enormous amount of empathy. A powerful, suspenseful, and heartbreaking thriller about identity, sisterhood, and belonging." - Kirkus (Starred Review)

"Masterfully written and pulling no punches...Summers creates and sustains almost unbearable tension, exploring sacrifice, loss, forgiveness, miracles, surrender, grief, and lies. Readers will question the truth and everyone's motivations in this world full of manipulation and mind games. A gripping, flawless psychological thriller ready to leave readers shattered." - School Library Journal (Starred Review)

"In this compelling and absorbing YA novel, two sisters make the most painful of choices based on their love for one another." - Shelf Awareness

"This is a beautifully-written, compelling book about the lengths to which someone will go in order not to lose their sense of belonging. It's full of twists and turns, keeping its readers guessing until the very end. The characterisation is masterfully done and so empathetic that the reader will find it almost impossible not to sympathise with the characters even if they are seemingly going down the wrong path. It's a tour de force, unflinchingly posing uncomfortable questions and forcing its readers to dig deep into themselves in order to find the answers." - The Nerd Daily

"This book is brave and raw and exciting and wise—wise about girls and women, weakness and strength, and the bittersweet beauty of being human." - Melissa Albert, New York Times bestselling author of The Hazel Wood Series

"Masterful and devastating. The Project welcomes you into its world with the warmth of a minister and peels back the psychology of its characters—joiners and questioners alike—with a precision only Courtney Summers is capable of. Trust me: there is no flaw in The Project." - Somaiya Daud, international bestselling author of Mirage and Court of Lions

"Courtney Summers has done it again: Broke my heart and pieced it back together in unexpected ways. The Project is a beautiful, thrilling testament to love. It takes a compelling deep dive into what makes people want to belong and you'll leave it gasping for air. This book is a baptism for your soul." - Maurene Goo, author of Somewhere Only We Know and The Way You Make Me Feel

"Completely electrifying from start to finish—I can't think of another writer who takes the risks Courtney Summers does and sticks the landing every single time." - Kara Thomas, author of The Cheerleaders and The Darkest Corners

"Courtney Summers has, once again, written a devastatingly perfect novel. The Project will charm you, thrill you, and ultimately gut you, all while challenging every preconceived notion you had about cults and our relationship with them." - Kaitlin Ward, author of Girl in a Bad Place and Lie to Me

Praise for Courtney Summers:

"A riveting tour de force." - Kirkus (Starred Review) on Sadie

"Summers excels at slowly unspooling both Sadie's and West's investigations at a measured, tantalizing pace." - Booklist (Starred Review) on Sadie

"A heartrending must-have." - School Library Journal (Starred Review) on Sadie

"A taut, suspenseful book about abuse and power." - Publishers Weekly (Starred Review) on Sadie

"Flat-out dazzling." - A.J. Finn, #1 New York Times bestselling author of The Woman in the Window on Sadie

"A haunting, gut-wrenching, and relentlessly compelling read." - Veronica Roth, #1 New York Times bestselling author of Carve the Mark and The Divergent series on Sadie

"The propulsive, riveting novel that started it all." - Karen M. McManus, New York Times bestselling author of One of Us is Lying and Two Can Keep a Secret on Cracked Up to Be

"Cracked Up to Be was my first introduction to the vicious brilliance that is Courtney Summers. Right from the opening lines, that breathless hammering of beats that illustrate the terrifying and true experience of high school, I knew I was in the hands of a writer who would be honest with her readers, who would even be brutal. This book changed me as a reader and as a writer. I could never go back again. After being gutted by a Summers novel, why would anyone want to?" —Nova Ren Suma, #1 New York Times bestselling author of The Walls Around Us

"Cracked Up to Be is a blisteringly realistic exploration of high school and the trauma that can occur during adolescence. Its brutally honest portrayal of Parker Fadley and her world is unforgettable. A modern classic." —Brandy Colbert, award-winning author of The Revolution of Birdie Randolph and Little & Lion

"This book is a raw, exposed nerve: all the mess we shouldn't see, shouldn't be, wrapped up in the story of one unforgettable girl. Courtney Summers and Cracked Up to Be rewrote the rules and for that I am forever grateful." — Rebecca Barrow, author of This Is What It Feels Like

"Parker Fadley is THE seminal unlikable female character of modern young adult literature. One of my favorite books of all time, Cracked Up to Be is absolutely riveting from first page to last." - Laurie Devore, author of How to Break a Boyand Winner Take All