Vegan for Everyone: 160 Family Friendly Recipes with a Delicious, Modern Twist (Hardcover)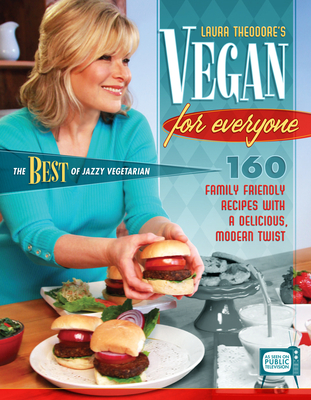 Description
---
Vegan for Everyone is the perfect book for anyone looking to add easy-to-prepare and delicious, plant-based food into their weekly menu plan. This innovative cookbook features more than 160 family friendly recipes (135 are gluten-free friendly) and over 200 beautiful, full-color photos, including 100+ new recipes, along with updated versions of 60 fan-favorites – all created by award-winning vegan chef Laura Theodore (PBS's Jazzy Vegetarian). Plus, this book includes an entire chapter of up-to-date nutritional information contributed by Julieanna Hever, MS, RD, CPT (The Plant-Based Dietitian), making it a complete and fun way to make family meals kinder, healthier and—most of all—tastier. 
 
With classic recipes like No-Egg Tofu-Veggie Scramble, Crazy, Easy BBQ Portobello Burgers and Cauliflower Steaks with Sweet Pepper Sauce; kid-friendly recipes like Yummy Banana-Oat Pancakes, Rockin' Peanut Butter-Banana Toast and Date n' Rice Cereal Treats; and plant-based, gluten-free recipes like Peachy Date-Nut Oat Bars, Zucchini Fettuccine Alfredo and Mad Mocha Marbled Mousse Pie, you'll be able to delight your entire family and all of your guests with easy-to-prepare, four-star meals that are satisfying, nutritious and delicious! 
 
Vegan for Everyone includes:
 
•Over 160 delectable vegan recipes, each with easy-to-follow instructions 
•Full color photo with almost every recipe (over 200 photos in all) 
•Recipe ingredients can be found at most local supermarkets •Handy icon to quickly identify over 135 gluten-free friendly recipes
•Detailed lists of vegan essentials, including how to stock your plant-powered pantry, organizing your spice rack and table of equivalent measures
•Many quick and easy three-ingredient recipes 
•Festive recipes to serve for holidays, birthdays and any special occasion
•Comprehensive plant-based nutrition chapter, contributed by Julieanna Hever, MS, RD, CPT.

Vegan for Everyone includes delightfully delicious, classic recipes to impress everyone you are cooking for—omnivores and vegans alike!
About the Author
---
 Laura Theodore is a recognized public television personality, celebrity vegan chef, podcast host and award winning cookbook author. She is co-creator of the highly successful Jazzy Vegetarian vegan cooking series on public television, now entering its 8th season on national public television. She is host of Jazzy Vegetarian Radio, a weekly podcast available on Unity Online Radio. Julieanna Hever, MS, RD, CPT, The Plant-Based Dietitian, has authored five books and two peer-reviewed journal articles on plant-based nutrition.
Praise For…
---
"Laura Theodore's Vegan for Everyone is a comprehensive cookbook that puts a vegan splash on your favorite recipes! From classic breakfast fare to the ultimate chocolate desserts, Laura has you covered. Don't miss her guides to filling your spice rack with exciting flavors or stocking your pantry with the essential ingredients. You won't want to put this cookbook down!" —Neal Barnard, MD, FACC, Physicians Committee for Responsible Medicine
 

"Laura Theodore's book, Vegan For Everyone, is an absolute must have for anyone who eats! The recipes are loaded with amazing ingredients and everything is easy to make! Your body will thank you for feeding it healthy food." —Kimberly Barnouin, Author of the New York Times Bestseller Skinny Bitch
 

"This vegan cookbook from Laura Theodore, a master at plant-based cooking, is the essential cookbook you need on your shelf—you will turn to it time and time again to make easy plant-based meals every day." —Sharon Palmer, MSFS, RDN, author of The Plant-Powered Dietitian
 

"Vegan for Everyone truly is for everyone! Laura has veganized favorite classic recipes using ingredients that are easy to find in just about any grocery store. These mouthwatering recipes cover everything from everyday meals and snacks to dinner party fare and holiday menus. These meals are deliciously fun, and they come together quickly. You'll find yourself excited to get into the kitchen so you can cook your way through this book! —Dianne Wenz, author The Truly Healthy Vegan Cookbook  

"Laura Theodore's new cookbook, Vegan for Everyone, is as Jazzy as she is. You can make restaurant quality food your whole family will love. Laura is as talented on camera as she is at cooking; you can rest assured that you can trust her recipes to get you from hungry to satisfied. Her new cookbook is a great addition to any kitchen." —Christa Clark, vegan blogger
 

"I adore Laura's books! Vegan for Everyone has the yummiest recipes! You will love these easy recipes that include sandwiches, pastas, pizzas and mouthwatering desserts. There is even a 'Chocolate Only' chapter! Oh my!" —Chloe Coscarelli, Vegan chef and cookbook author
 

"For a decade, Laura has shared her passion for plant-based eating in her Jazzy Vegetarian show. Now she's placed fan-based favorites and 'best of recipes' inside these pages. Whether she's keeping it simple with the basics or whipping up comfort foods, or sharing new creations, these recipes are easy and stress-free to prepare and simply delicious." —Ann Gentry, author of The Real Food Daily Cookbook and Real Food for Everyone
 

"Laura Theodore takes such great joy in creating fabulously festive fare (that's also easy enough to enjoy every day that it's almost easy to forget — but let's not!) — that she's driven by her compassion for animals and concern for the planet. I'm so excited to have this "best of" collection, featuring fan favorites from her multi-season Jazzy Vegetarian series, as well as her own favorites. And what a rich selection it is — from breakfast and baking to one-pot meals and divine desserts, and so much more in between. Whether this is your first vegan cookbook or you have shelves filled with them, I assure you that this is one that you'll actually use, all year round." —Nava Atlas, author of 5-Ingredient Vegan
 

"The ever-innovative Jazzy Vegetarian returns with this stunning cookbook that offers truly kitchen-friendly recipes so easy that everyone will find them compelling. All the classic dishes you've loved and enjoyed through the years are included in this beautiful volume, complete with lip-smacking, irresistibly gorgeous photos that seem to reach out and guide you to the dining table. This book will be treasured in every kitchen." —Zel and Reuben Allen, Vegetarians in Paradise
 

"This is a great cookbook for everyone – both those who are vegan already, those who are just veg curious and even omnivores. There are classic recipes made over to be meatless, kid friendly vegan recipes and gluten free plant based recipes." —Sarah, Bad to the Bowl

"Vegan for Everyone is a cookbook treasure, not only for its impressive, brilliant food photos but also for the exceptional recipes that are so well crafted." —Zel and Reuben Allan, Vegetarians in Paradise​

". . . Laura Theodore's Vegan for Everyone really is a cookbook built to accommodate each and every eater out there, no matter age, location, tastes, and time constraints." —Hannah Kaminsky, Bittersweet