Early Life Among the Indians: Reminiscences from the life of Benj. G. Armstrong (Paperback)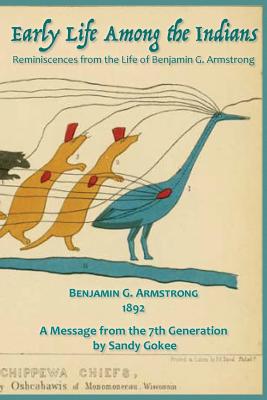 $14.99

In Warehouse, Usually Ships to Store in 1-5 Days
Description
---
First published in 1892, Early Life Among the Indians is the biography of Benjamin Armstrong, who in 1840 took up his residence in northern Wisconsin. Having learned the Ojibwe language, he became a well-known interpreter. He was known for respecting and documenting the traditional life and culture of the Anishnabe, and became the adopted son of Ke-Che-Waish-Ke, Chief Buffalo, the most respected leader of the Lake Superior bands.
In 1852 Armstrong accompanied Great Buffalo and other Ojibwe chiefs to Washington, D.C. to plead against the proposed forced relocation of the Ojibwe west of the Mississippi. A meeting between the chiefs and President Millard Fillmore was a success and brought a reversal of the removal order of 1849.
Through his respect and love for the tribes and his connections with Chief Buffalo's family, Armstrong was granted access to leaders of all the Ojibwe bands. Early Life Among the Indians contains his recollections of battles with Sioux adversaries, memoirs of the Sandy Lake tragedy, accounts of the crucial treaty councils that defined modern Ojibwe life, the arrival of miners and loggers in the Ojibwe homelands, and much more about northern Wisconsin in the 19th century.
This edition also contains a special message from the 7th generation of Chief Buffalo, his great-granddaughter Sandy Gokee, Anishinaabe kwe, mother, daughter, student, teacher, and water protector living on the shores of Lake Superior.