A Coalition of Lineages: The Fernandeño Tataviam Band of Mission Indians (Paperback)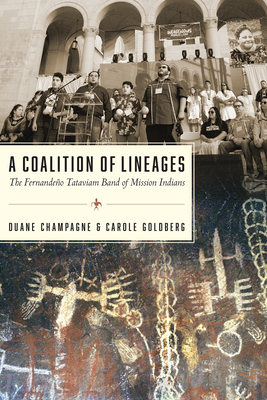 $28.69
Maybe Unavailable, Ask us
Description
---
The Fernandeño Tataviam Band of California Mission Indians have lived in Southern California in the area now known as Los Angeles and Ventura Counties from time immemorial. Throughout history, these Indigenous Californians faced major challenges as colonizers moved in to harvest the resources of the California lands. Through meticulous archival research, authors Duane Champagne and Carole Goldberg trace the history of the Fernandeño Tataviam Band from the time before the Spanish arrived in the Americas to the present day.

The history of Southern California's Indigenous communities is mapped through the story of family and their descendants, or lineages. The authors explain how politically and culturally independent lineages merged and strengthened via marriage, creating complex and enduring coalitions among Indigenous communities. The Indigenous people of Southern California faced waves of colonizers—the Spanish, then the Mexicans, followed by Americans—and their coalitions allowed them to endure to today.

Champagne and Goldberg are leading experts in Native sovereignty policies and histories. They worked in collaboration with members of the Fernandeño Tataviam Band of Mission Indians to illustrate how the community formed and persisted. A Coalition of Lineages is not only the story of a Native Southern California community, it is also a model for multicultural tribal development for recognized and nonrecognized Indian nations in the United States and elsewhere.
 
About the Author
---
Duane Champagne has authored or edited more than 125 publications on issues of social and cultural change in both historical and contemporary Native American communities. He is a professor emeritus of sociology, law, and American Indian studies at UCLA.

Carole Goldberg is Distinguished Research Professor of Law at UCLA, specializing in Native American tribal law and federal Indian law. She has published widely on issues including tribal sovereignty, criminal justice, child welfare, and repatriation.
 
Praise For…
---
"A Coalition of Lineages is an important and robust study highlighting the continuity of the unrecognized Fernandeño Tataviam Band of Mission Indians, the genealogical caretakers of the San Fernando and Santa Clarita valleys and the surrounding areas. They should be recognized and given back their land, as should their unrecognized relatives and neighbors, the Chumash, Acjachemen, and Tongva/Gabrielino nations. Yet, despite Champagne and Goldberg's argument that federal recognition is a step toward remedying the harm of colonialism (16), the sovereignty promised through recognition does not dismantle the oppressive colonial, racist, and patriarchal structure of the state."—Charles Sepulveda, American Indian Culture and Research Journal

"Written to dispel the idea that these lineages ever ceased to exist under colonial power, this book offers a conceptual framework around the lineage that can be useful to historians and scholars."—Lisbeth Haas, author of Saints and Citizens: Indigenous Histories of Colonial Missions and Mexican California