We Are Here to Stay: Voices of Undocumented Young Adults (Hardcover)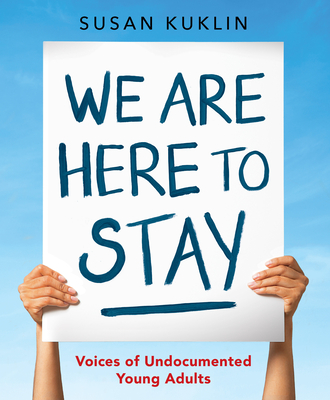 $21.99

In Warehouse, Usually Ships to Store in 1-5 Days
Description
---
The Stonewall Honor–winning author of Beyond Magenta shares the intimate, eye-opening stories of nine undocumented young adults living in America.

"Maybe next time they hear someone railing about how terrible immigrants are, they'll think about me. I'm a real person."

Meet nine courageous young adults who have lived in the United States with a secret for much of their lives: they are not U.S. citizens. They came from Colombia, Mexico, Ghana, Independent Samoa, and Korea. They came seeking education, fleeing violence, and escaping poverty. All have heartbreaking and hopeful stories about leaving their homelands and starting a new life in America. And all are weary of living in the shadows. We Are Here to Stay is a very different book than it was intended to be when originally slated for a 2017 release, illustrated with Susan Kuklin's gorgeous full-color portraits. Since the last presidential election and the repeal of DACA, it is no longer safe for these young adults to be identified in photographs or by name. Their photographs have been replaced with empty frames, and their names are represented by first initials. We are honored to publish these enlightening, honest, and brave accounts that encourage open, thoughtful conversation about the complexities of immigration — and the uncertain future of immigrants in America.
About the Author
---
Susan Kuklin is the award-winning author and photographer of more than thirty books for children and young adults that address social issues and culture, including No Choirboy: Murder, Violence, and Teenagers on Death Row and Beyond Magenta: Transgender Teens Speak Out, which was named a Stonewall Honor Book. Her photographs have appeared in the Museum of the City of New York, documentary films, Time magazine, Newsweek, and the New York Times. Susan Kuklin lives in New York City.
Praise For…
---
Kuklin walked two tightropes in writing this book, doing so with competence and skill. Her first tour de force was to succeed in writing about people, not politics, even though the latter plays a consequential, even a central, role in the lives of those she writes about, in the form of immigration policies. Kuklin's mastery is also manifest in her ability to engender empathy and compassion without writing a tear-jerker; the painful experiences, often narrated in a raw and unembellished manner, while inspiring, are more conducive to a productive conversation on the complicated issues of immigration. A must-read.
—Kirkus Reviews

[The] author's note and the annotated endnotes are essential to understand why there are empty frames where photos would typically appear and to consider the more difficult aspects of DACA that will affect the fates of the book's contributors. For those who understand Kuklin and her interviewees' intent, the visual redactions are haunting, and the subjects' cautious but pervasive optimism is a troubling counterpoint to readers' knowledge that the American welcome mat has subsequently been pulled out from under their feet.
—Bulletin of the Center for Children's Books

Readers will see how immigration organizations are structured and, prior to the '90s, how open U.S. borders were. In their accounts, these teens discuss how they are processing DACA's uncertainty and how they identify with being American (or not). A time line on immigration policies and laws and helpful chapter notes are appended. A thought-provoking read on immigration in America.
—Booklist

Susan Kuklin set out to give voice to the silent in We Are Here to Stay...Kuklin transcribes the stories as spoken by their owners, which serves to bolster their authenticity and the humanity. Their powerful narratives reinforce one immigrant's words: "Being undocumented doesn't define me. I don't want documents... to be my signifier. Ultimately, I'm just a person." And the missing images speak volumes about the way society views these youths. Chilling, inspiring and hopeful, We Are Here to Stay transcends politics and finds the common bonds of mankind.
—Shelf Awareness for Readers

These empty pages are haunting, emphasizing the fear that the children live with, even as their stories address the importance of bringing their experiences out of hiding...We Are Here to Stay is an important book for anyone concerned about the issues surrounding undocumented immigrants.
—Foreword Reviews