Chimes at Midnight (October Daye #7) (Mass Market)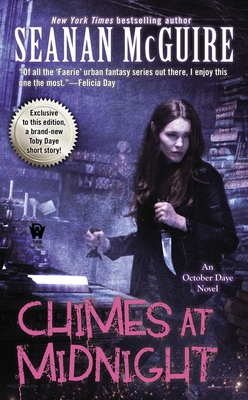 $8.99
Maybe Unavailable, Ask us
Other Books in Series
This is book number 7 in the October Daye series.
Description
---

New York Times-bestselling October Daye series • Hugo Award-winning author Seanan McGuire • "Top of my urban-paranormal series list!" —Felicia Day

Things are starting to look up for October "Toby" Daye. She's training her squire, doing her job, and has finally allowed herself to grow closer to the local King of Cats. It seems like her life may finally be settling down...at least until dead changelings start appearing in the alleys of San Francisco, killed by an overdose of goblin fruit.

Toby's efforts to take the problem to the Queen of the Mists are met with harsh reprisals, leaving her under sentence of exile from her home and everyone she loves. Now Toby must find a way to reverse the Queens decree, get the goblin fruit off the streets--and, oh, yes, save her own life.

And then there's the question of the Queen herself, who seems increasingly unlikely to have a valid claim to the throne....To find the answers, October and her friends will have to travel from the legendary Library of Stars into the hidden depths of the Kingdom of the Mists--and they'll have to do it fast, because time is running out.
About the Author
---
Seanan McGuire is a California-based author with a strong penchant for travel and can regularly be found just about anyplace capable of supporting human life (as well as a few places that probably aren't). Early exposure to a vast number of books left her with a lifelong affection for the written word, and led, perhaps inevitably, to her writing books of her own, starting somewhere around the age of eleven. The October Daye novels are her first urban fantasy series, and the InCryptid novels are her second series, both published by DAW and bother of which have put her in the New York Times bestseller list. Seanan was the winner of the 2010 John W. Campbell Award for Best New Writer; Rosemary and Rue, the first novel in the October Daye series, was named one of the Top 20 Paranormal Fantasy Novels of the Past Decade; and her novel Feed, written under the name Mira Grant, was named as one of Publishers Weekly's Best Books of 2010. She also won a Hugo for her podcast, and is the first person to be nominated for five Hugo Awards in a single year. You can visit her at www.seananmcguire.com.
Praise For…
---
Praise for the October Daye series:
"
This installment bumped this series up to the top of my urban-paranormal series list!
… Highly recommend it, can't wait for the next! Of all the 'Faerie' urban fantasy series out there, I enjoy this one the most. If you like the
Dark Fever
series or Kate Daniels series, you'll def like this one."
—
Felicia Day
"McGuire applies a hard-boiled mentality and a keen appreciation for mythology to a blend of politics, magic, and romance to make this
the most entertaining series installment to date
." —
Publisher's Weekly
"
Fast-paced, without ever being frantic, with excellent characterization
.... McGuire is a dab hand at dialogue, and the bantering between Toby and everyone--especially Tybalt--is one of the highlights of the book." —
RT Book Reviews
"The
October Daye
series is one of those delicious worlds that
becomes more and more beloved with each visit
, and
Ashes of Honor
is my favorite of this series to date." —
All Things Urban Fantasy

"Lots of portal hopping, visits to some of Toby's old friends, and some deadly encounters keep things lively as the
tension builds to a dramatic conclusion
." —
Locus
"[McGuire] tells her story with
energy and charm
.... It's all so much fun." —
SF Signal

"
Strong and evocative
.... It has everything you could want: strong characters, detailed settings, and an engrossing plot." —
Owlcat Mountain

"I love that Toby is a strong, independent--yet still vulnerable--heroine. I love that this is a world where people die, where consequences matter. I love the complex world-building and mythology. I love the almost film noir tone of the series. I love that each book leaves me wanting more.
If you dig urban fantasy, this is one of the best out there
." —
CC2K

"With
Ashes of Honor
, McGuire has crafted a deeply personal and intense story that will keep you on the edge, hoping to be pushed over. In my opinion, it is,
hands down, the best Toby to date
." —
The Ranting Dragon