A Red-Rose Chain (October Daye #9) (Mass Market)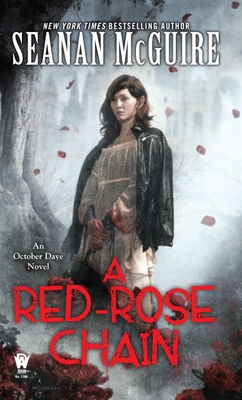 $8.99
Maybe Unavailable, Ask us
Other Books in Series
This is book number 9 in the October Daye series.
Description
---
New York Times-bestselling October Daye series • Hugo Award-winning author Seanan McGuire • "Top of my urban-paranormal series list!" —Felicia Day

Things are looking up.

For the first time in what feels like years, October "Toby" Daye has been able to pause long enough to take a breath and look at her life -- and she likes what she sees. She has friends. She has allies. She has a squire to train and a King of Cats to love, and maybe, just maybe, she can let her guard down for a change.

Or not. When Queen Windermere's seneschal is elf-shot and thrown into an enchanted sleep by agents from the neighboring Kingdom of Silences, Toby finds herself in a role she never expected to play: that of a diplomat. She must travel to Portland, Oregon, to convince King Rhys of Silences not to go to war against the Mists. But nothing is that simple, and what October finds in Silences is worse than she would ever have imagined.

How far will Toby go when lives are on the line, and when allies both old and new are threatened by a force she had never expected to face again? How much is October willing to give up, and how much is she willing to change? In Faerie, what's past is never really gone.

It's just waiting for an opportunity to pounce.
About the Author
---
Seanan McGuire is a California-based author with a strong penchant for travel and can regularly be found just about anyplace capable of supporting human life (as well as a few places that probably aren't). Early exposure to a vast number of books left her with a lifelong affection for the written word, and led, perhaps inevitably, to her writing books of her own, starting somewhere around the age of eleven. The October Daye novels are her first urban fantasy series, and the InCryptid novels are her second series, both published by DAW and bother of which have put her in the New York Times bestseller list. Seanan was the winner of the 2010 John W. Campbell Award for Best New Writer; Rosemary and Rue, the first novel in the October Daye series, was named one of the Top 20 Paranormal Fantasy Novels of the Past Decade; and her novel Feed, written under the name Mira Grant, was named as one of Publishers Weekly's Best Books of 2010. She also won a Hugo for her podcast, and is the first person to be nominated for five Hugo Awards in a single year. You can visit her at www.seananmcguire.com.
Praise For…
---
Praise for the October Daye series:

"McGuire has never lacked for courage in her writing.... The phenomenally inventive October Daye series showcases her narrative daring and ingenuity beautifully." —RT Reviews

"Prepare to be dazzled.... Like the best of urban fantasy, with each reveal and mystery solved, Toby's world grows ever more enticing. As seductive as faerie itself, this is one series I could never give up." —All Things Urban Fantasy

"These books are like watching half a season of your favorite television series all at once.... More than anything else, it's the fun of it all that's kept me returning to McGuire's books and to this series." —SF Signal 

"The plot is strong, the characterization is terrific, the tragedies hurt...and McGuire's usual beautiful writing and dark humor are present and accounted for. This has become one of my favorite urban fantasy series." —Fantasy Literature

"With Ashes of Honor, McGuire has crafted a deeply personal and intense story that will keep you on the edge, hoping to be pushed over. In my opinion, it is, hands down, the best Toby to date." —The Ranting Dragon

"An urban fantasy detective series featuring a resourceful female detective.... [October Daye] should appeal to fans of Jim Butcher's Dresden Files as well as the novels of Charlaine Harris, Patricia Briggs, and similar authors." —Library Journal