Ashes of Honor (October Daye #6) (Mass Market)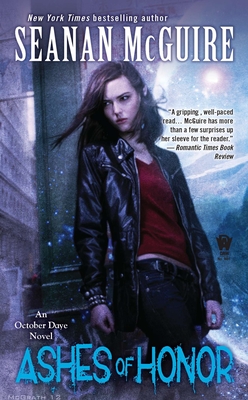 $8.99

In Warehouse, Usually Ships to Store in 1-5 Days
Other Books in Series
This is book number 6 in the October Daye series.
Description
---
New York Times-bestselling October Daye series • Hugo Award-winning author Seanan McGuire • "Top of my urban-paranormal series list!" —Felicia Day

It's been almost a year since October "Toby" Daye averted a war, gave up a county, and suffered personal losses that have left her wishing for a good day's sleep. She's tried to focus on her responsibilities, but she can't help feeling like her world is crumbling around her, and her increasingly reckless behavior is beginning to worry even her staunchest supporters.

To make matters worse, Toby's just been asked to find another missing child…only this time it's the changeling daughter of her fellow knight, Etienne. Chelsea, a teleporter like her father, is the kind of changeling the old stories warn about: the ones with all the strength and none of the control.  She's opening doors that were never meant to be opened, releasing dangers that were sealed away centuries before—and there's a good chance she could destroy Faerie if she isn't stopped.

Now Toby must find Chelsea before time runs out, racing against an unknown deadline and through unknown worlds as she and her allies try to avert disaster. Toby thought the last year was bad.  She has no idea.
About the Author
---
Seanan McGuire is a California-based author with a strong penchant for travel and can regularly be found just about anyplace capable of supporting human life (as well as a few places that probably aren't). Early exposure to a vast number of books left her with a lifelong affection for the written word, and led, perhaps inevitably, to her writing books of her own, starting somewhere around the age of eleven. The October Daye novels are her first urban fantasy series, and the InCryptid novels are her second series, both published by DAW and bother of which have put her in the New York Times bestseller list. Seanan was the winner of the 2010 John W. Campbell Award for Best New Writer; Rosemary and Rue, the first novel in the October Daye series, was named one of the Top 20 Paranormal Fantasy Novels of the Past Decade; and her novel Feed, written under the name Mira Grant, was named as one of Publishers Weekly's Best Books of 2010. She also won a Hugo for her podcast, and is the first person to be nominated for five Hugo Awards in a single year. You can visit her at www.seananmcguire.com.
Praise For…
---
Praise for the October Daye series:

"October Daye is as gritty and damaged a heroine as Kinsey Millhone or Kay Scarpetta.... Toby's nocturnal existence is full of the kind of shadows that keep the pages turning. Changelings, like all faerie folk, live long; may McGuire and these novels do the same." —The A.V. Club

"This newest installment in McGuire's October Daye series is fast-paced, without ever being frantic, with excellent characterization.... McGuire is a dab hand at dialogue, and the bantering between Toby and everyone -- especially Tybalt -- is one of the highlights of the book." —RT Book Reviews

"McGuire applies a hard-boiled mentality and a keen appreciation for mythology to a blend of politics, magic, and romance to make this the most entertaining series installment to date." —Publishers Weekly

"The October Daye series is one of those delicious worlds that becomes more and more beloved with each visit, and Ashes of Honor is my favorite of this series to date." —All Things Urban Fantasy

"With Ashes of Honor, McGuire has crafted a deeply personal and intense story that will keep you on the edge, hoping to be pushed over. In my opinion, it is, hands down, the best Toby to date." —The Ranting Dragon

"The October Daye series has become on of my favorites, and it just keeps getting better and better." —Fantasy Book Cafe

"Swearing! Running! Sexy times! Leather jackets and folklore and secret offspring and tales of lost love. It's all so much fun." —SF Signal

"Why are you wasting time reading my rhapsodic review? Just go get the book, and see for yourself, if you've been following the series right along. If not, go get all six books.... If you love well written urban fantasy, with unique and interesting characters, you won't be disappointed." —Tome Tender