Rosemary and Rue: An October Daye Novel (Mass Market)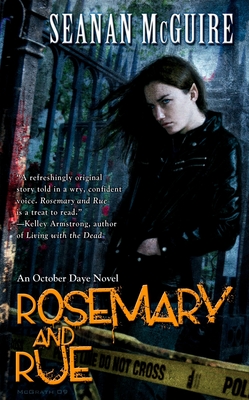 Other Books in Series
This is book number 1 in the October Daye series.
Description
---
New York Times-bestselling October Daye faerie series • Hugo Award-winning author Seanan McGuire • "Top of my urban-paranormal series list!" —Felicia Day

The world of Faerie never disappeared; it merely went into hiding, continuing to exist parallel to our own. Secrecy is the key to Faerie's survival—but no secret can be kept forever, and when the fae and mortal worlds collide, changelings are born.

Outsiders from birth, these half-human, half-fae children spend their lives fighting for the respect of their immortal relations. Or, in the case of October "Toby" Daye, rejecting it completely. After getting burned by both sides of her heritage, Toby has denied the fae world, retreating into a "normal" life. Unfortunately for her, Faerie has other ideas...

The murder of Countess Evening Winterrose, one of the secret regents of the San Francisco Bay Area, pulls Toby back into the fae world. Unable to resist Evening's dying curse, Toby must resume her former position as knight errant to the Duke of Shadowed Hills and begin renewing old alliances that may prove her only hope of solving the mystery...before the curse catches up with her.
About the Author
---
Seanan McGuire lives and works in Washington State, where she shares her somewhat idiosyncratic home with her collection of books, creepy dolls, and enormous blue cats. When not writing—which is fairly rare—she enjoys travel, and can regularly be found any place where there are cornfields, haunted houses, or frogs. A Campbell, Hugo, and Nebula Award-winning author, Seanan's first book (Rosemary and Rue, the beginning of the October Daye series) was released in 2009, with more than twenty books across various series following since. Seanan doesn't sleep much. 

You can visit her at www.seananmcguire.com.
Praise For…
---
Praise for the October Daye series

A three-time Hugo Award-nominated series

"The top of my urban-paranormal series list! I am so invested in the worldbuilding and the characters.... The romance is real and awesome, but doesn't overshadow the adventure." —Felicia Day

"Everything you'd ever need in an urban fantasy. It's a smart story, cleanly told that allows both humor and heartbreak to take their turn on stage." —Tanya Huff, author of An Ancient Peace

"Rosemary and Rue is one of the most successful blends of mystery and fantasy I've ever read—like Raymond Chandler by way of Pamela Dean." —Tim Pratt, author of Dead Reign

"McGuire knows her fairy lore, bringing the wonder and the danger of the fair folk to the streets of San Francisco so vividly you can smell the rose goblins." —Jim C. Hines, author of Libriomancer

"Toby's combination of pragmatic heroism and relentless self-destruction makes her a compelling heroine in a secret folklore-filled world that still feels fresh and dangerous after all this time." —Publishers Weekly

"An incredible mix of action, mystery, fairy, urban fantasy, and just a smidgen of romance artfully woven into a story impossible to put down." —Sacramento Book Review

"I can't believe McGuire can come up with another adventure as riveting as this one. But then I say that after every book in this series." —SFRevu

"McGuire has never lacked for courage in her writing.... The phenomenally inventive October Daye series showcases her narrative daring and ingenuity beautifully." —RT Reviews

"Prepare to be dazzled.... Like the best of urban fantasy, with each reveal and mystery solved, Toby's world grows ever more enticing. As seductive as faerie itself, this is one series I could never give up." —All Things Urban Fantasy

"These books are like watching half a season of your favorite television series all at once.... More than anything else, it's the fun of it all that's kept me returning to McGuire's books and to this series." —SF Signal 

"The plot is strong, the characterization is terrific, the tragedies hurt...and McGuire's usual beautiful writing and dark humor are present and accounted for. This has become one of my favorite urban fantasy series." —Fantasy Literature

"An urban fantasy detective series featuring a resourceful female detective.... [October Daye] should appeal to fans of Jim Butcher's Dresden Files as well as the novels of Charlaine Harris, Patricia Briggs, and similar authors." —Library Journal