Flu: The Story Of The Great Influenza Pandemic of 1918 and the Search for the Virus that Caused It (Paperback)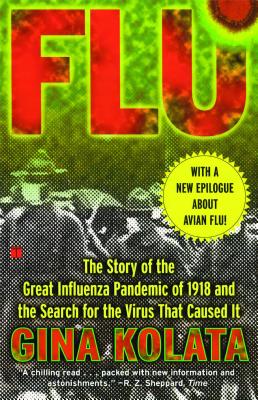 $18.99

In Warehouse, Usually Ships to Store in 1-5 Days
Description
---
A national bestseller, the fast-paced and gripping account of the Great Flu Epidemic of 1918 from acclaimed science journalist Gina Kolata, now featuring a new epilogue about avian flu.

When we think of plagues, we think of AIDS, Ebola, anthrax spores, and, of course, the Black Death. But in 1918 the Great Flu Epidemic killed an estimated forty million people virtually overnight. If such a plague returned today, taking a comparable percentage of the US population with it, 1.5 million Americans would die.

In Flu, Gina Kolata, an acclaimed reporter for The New York Times, unravels the mystery of this lethal virus with the high drama of a great adventure story. From Alaska to Norway, from the streets of Hong Kong to the corridors of the White House, Kolata tracks the race to recover the live pathogen and probes the fear that has impelled government policy.

A gripping work of science writing, Flu addresses the prospects for a great epidemic's recurrence and considers what can be done to prevent it.
About the Author
---
Gina Kolata is a science reporter for The New York Times and the author of Clone: The Road to Dolly and Sex in America. She lives in Princeton, New Jersey.
Praise For…
---
R. Z. Sheppard Time magazine A chilling read...packed with new information and astonishments.

Dr. Jerome Groopman Boston Sunday Globe Moves at a rapid pace, with vivid prose and graphic scenes...A masterly recounting of medical history.

John R. Alden The Philadelphia Inquirer Kolata reports this story with all the fervor of Coleridge's ancient mariner, gripping her readers in the book's first paragraph and not letting go until her tale is told.

Beryl Lieff Benderly The Washington Post Kolata commands the intelligent curiosity, well-honed reporting techniques, and smooth prose style of a top science reporter.